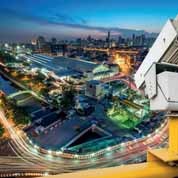 Sony Semiconductor Solutions has launched a new image sensor for high-end surveillance cameras, factory automation applications, and industrial environments.
This new 1.4-type CMOS sensor is available from Sony's decades-long partner and vision expert, FRAMOS. This sensor outputs a 47MP image using its 2.315µm pixels running up to 24 fps in 10 bit over the SLVS-EC interface or 13.7 fps with MIPI (CSI-2). High sensitivity, low dark current, and no smear images are achieved through the larger pixels which are available in either color or monochrome variants. The IMX492 has a Quad-Pixel Binning HDR function which outputs several images with different exposure times overlapping. This function is only support on the monochrome version.
The HDR feature and multiple readout modes increase the image quality and help the sensor adapt to individual industrial applications, thereby achieving the best possible output performance. The sensor supports both SLVS-EC with up to 8 serial data output or CSI-2 with 2 or 4 serial data output per channel.
Availability and further information
Evaluation samples are available immediately, and mass production will begin in Q3 2020. The industry and product experts at FRAMOS are available to support customers with the integration of these new sensors into their applications and projects. In addition, FRAMOS provides a broad range of support services for development, customization, and sensor logistics