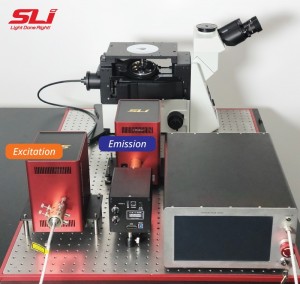 Spectrolight's FWS-Poly is an innovative wavelength selector that can be used for both excitation and emission wavelength selection. With this product, you can convert a very basic light microscope into an excellent fluorescence microscope without any drastic modification of the existing one.
A commercial fluorescence microscope uses a tungsten lamp, mercury lamp, or LED as a light source, and it is connected to the microscope through a light guide or fixed directly to the body. In the case of a confocal microscope, lasers in the visible range are usually included, such as 405 nm, 488 nm, 561 nm, and 640 nm, and as the number of lasers increases, the size of the entire microscope system and the price increases.
Using FWS-Poly widens the pool of the available fluorophore and gives much flexibility in adjusting the wavelength range and bandwidth. For example, if the FWS-Poly (385 ~ 1015 nm) or FWS-Poly-SWIR (1015 ~ 1650 nm) is connected, any wavelength can be selected and used as excitation light. FWS-Poly products have a minimum bandwidth of 3 nm and can be widened to a maximum of 15 nm.
This conversion is entirely automatic and can quickly adjust wavelength and bandwidth in real-time through the software provided. In addition, it is possible to make a higher-performance fluorescence microscope on a much lower budget than when purchasing a commercial fluorescence microscope.