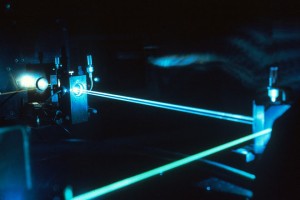 Talks by two Nobel Laureates will be among more than 5200 technical presentations held alongside the photonics and laser exhibition, seminars, and training courses at SPIE Photonics West 2018 in San Francisco, California (US). The symposium will run 27 January through 1 February at Moscone Center, attracting an international audience of more than 20000.
Conference tracks cover biomedical optics (BiOS), industrial laser sources and applications (LASE), and optoelectronics and photonic materials and devices (OPTO).
Details and registration information
Stefan Hell (Max-Planck-Institut Göttingen) and WE Moerner (Stanford University), who shared the 2014 Nobel Prize in Chemistry with Eric Betzig (Janelia Research Campus) for work in ultrahigh-resolution fluorescence microscopy, will provide updates.
Two major international exhibitions — the 200-company BiOS Expo on 27 and 28 January, and the sold-out Photonics West Exhibition 30 January through 1 February with approximately 1300 companies — will showcase new laser and optical systems for medical, industrial and other applications. There is no charge for exhibition admission; registration is required.
Training options include more than 70 courses in lasers and applications, sensors, imaging, and optical and optomechanical engineering, plus professional development seminars and industry workshops.
A new BiOS conference covers Photonic Diagnosis and Treatment of Infections and Inflammatory Diseases. Featured talks include the BiOS Hot Topics session; plenary talks on neurotechnologies, biomedical optics and nano/biophotonics; and a translational biophotonics session.
LASE plenary talks will cover topics such as laser frequency combs and dual-comb spectroscopy, optical lattice clocks, and industrial laser systems.
OPTO plenary talks will cover silicon photonics, nanowire LEDs and photonics beyond the diffraction limit, and other topics. New conferences are on 2D Photonic Materials and Devices, Optical Data Science, and UltraHigh-Definition Imaging Systems.
Market trends and business opportunities will be explored during industry-focused sessions on virtual, augmented and mixed reality technology; silicon photonics, and photonic integrated circuits, 3D printing, and other topics.