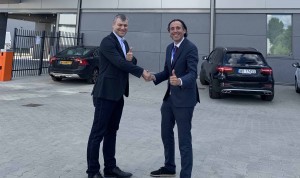 In this article, Jose Pozo, EPIC's CTO talks to Adam Piotrowski, CEO of VIGO System, a world leader in the design and manufacture of electronic subassemblies for HgCdTe, IR photon detectors and mechanical accessories.
Early career
As the son of Josef Piotrowski, a Physics professor and who co-founded VIGO System in 1987, Adam was immersed in physics and semiconductors from an early age. While still at high school, he helped his father prepare documents for presentations and helped with the company website, and in his father's work breaks, they would talk about the physics behind semiconductors and other aspects of VIGO's technology.
It was little wonder then, that one year before completing a BSc/MSc in Electrical, Electronics and Communications Engineering at the Polytechnic of Warsaw, in 2002, Adam began working for VIGO. His first job was engineer at MOCVD lab where he was responsible for R&D and organization of the HgCdTe epitaxy by metalorganic chemical vapour deposition (MOCVD).
MOCVD lab
VIGO's IR detectors had always been based on mercury cadmium telluride (HgCdTe) because of its unique property of enabling band gap tuning by means of changing the alloy composition. But in 2003, they decided to introduce MOCVD as a new fabrication process because it enabled the fabrication of more complicated semiconductor structures, e.g., in which the band gap could be increased or decreased in consecutive layers of a heterostructure.
Over the next 6 years Adam become head of MOCVD lab and developed VIGO's MOCVD based fabrication of IR detectors on two-inch gallium arsenide (GaAs) substrate. However, as Adam recalls: "It wasn't easy as I had to learn from scratch, and as everyone involved in semiconductors knows, HgCdTe is one of the most difficult materials to grow, particularly getting the mercury content right". He emphasizes great appreciation for the people he worked with. Teamwork and ideas from qualified employees were the key to successful project implementation.
Head of Detectors Department
In 2008, after completing a PhD in Materials Engineering at Wojskowa Akademia Techniczna in Warsaw, Adam became Head of Detectors Department, where he has since been responsible for production management of IR detectors. Over the last 12 years, VIGO has become world renowned for the quality and functionality of their IR detectors: they can fulfil structural, optical, photoelectric as well as electronic functions, and can be tailor-made to the specific needs of the customer, particularly to each radiation band within the range from 1 to 16μm, and to various operating temperatures from 200 – 300K.
VIGO CEO
In 2014, Adam became a member of VIGO's board, and in 2015, company CEO and President. Since then, he has initiated the following developments:
Expansion of product portfolio and application fields
Products: Based on MCT, InAs or InAsSb, at wavelengths from 3-6 µm for and MWIR and from8-16 µm for LWIR, VIGO now produces the following IR detectors: InAsSb Detectors for long term stability in harsh environments; Quadrant geometry detectors; and Quad cell detectors based on photoconductors or photodiodes, e.g., for military applications and XY or differential measurements.
Application fields: VIGO's application fields have been expanded to include the following:
Industrial: gas analysis: laser power control and calibration: spectroscopy:
Defence and security: early warning systems, smart munitions, detecting trace amounts of drugs and explosives
Environmental Protection: air quality analysis, real-time water quality control
Medical applications: non-invasive blood analysis. exhaled air analysis, tumour marker levels, diagnosing asthma and liver diseases.
Transport: analysis of temperature distribution in fast moving objects, e.g., the temperature of wheels, brakes, shock absorbers and chassis of trains; engine emissions' monitoring and control; fuel quality assessment
Space exploration: Since 2013, VIGO ¡s pioneering infrared detectors have been used by NASA and ESA for exploring Mars as part of a tuneable laser spectrometer installed on the Curiosity rover, and also in ICOTOM radiometers used for monitoring the external coating of landers.
Precise, non-destructive spectroscopy: To date, more than 500 scientific publications have cited the use of VIGO System detectors in research aimed at improving the performance of gas analysers, radiocarbon dating or analysing the chemical composition of minerals in archaeology
Move to volume production
The second development was a move to volume production in response to an increase in demand for industrial applications for laser power control and calibration. In 2019, VIGO opened a new production facility and have recently invested in new clean rooms for scaling up production via multi wafer runs to meet demand and reduce costs. But as Adam explains, with mass production comes a focus on qualification of calibration: "It's no longer a need for a state-of-the-art detector because everything needs to be done to ensure conformity to the customers specifications". As an example, he gives a new product developed at VIGO that can change the rules of the game on the market. The Affordable Detection Module is a miniature module where the detector is integrated with a preamplifier and the overall volume is a few cubic mm. The possibility of mass production and a very low price means that MID IR will be able to hit the mass market.
The future
VIGO technology: VIGO intends to continue to expand its range of advanced photonic solutions worldwide that are tailored to individual customers' needs at an affordable price. It will continue to offer a full range of products for the infrared market from photonic materials to components and ready-made sensory subsystems.
Most recently, in May 2020, and for the first time in Poland, VIGO introduced new innovative epi-structures for vertical-cavity surface-emitting lasers (VCSELs). The aim was to demonstrate the company's capability to meet the increasing demand of its customers for disruptive epiwafer technology for use in communication systems, LIDARs, printers, time-of-flight sensors, autonomous vehicles, robots and drones.
VIGO intends to increase the production of VCSEL epi-wafers as well as other innovative epi-structures, which Adam sees as an important component in the company's long-term profitable growth.
More collaboration: Adam is a great believer in the value of networking and collaboration. As he explains: "You cannot do everything yourself: it's not just about commercial contracts or keeping the supply chain together. Having close relations with other companies is a great opportunity to learn how not to make mistakes, but also by working together, e.g., on European projects, we can overcome socio-economic challenges and bring more resources into the photonics industry, which will ultimately benefit society". To this end, VIGO will be hosting an EPIC meeting on Mid-IR Sensing to be held at VIGO, Warsaw on 22-23 October 2020.
Polish Technology Platform for Photonics (PTPP): Adam plans to spend more time promoting the aims of the PTPP. In 2015, Adam was appointed Vice Chairman, and in 2017, President, of the PTPP, which had been set up in 2013. to increase the innovativeness of the Polish photonic industry. As Adam explains, while Poland has a large number of photonics based companies, and islands of experience, they are not connected or working together: "What we want to do is to push Polish businesses, scientific units, government and non-governmental organisations to work together to develop photonics technologies and training in Poland."
By 2030, the PTPP wants Polish photonics to be an influential and widely recognised European provider of key photonics technologies.
Adam is also involved in activities developing photonics in Europe. Actively works in organizations such as Photonics 21. With its activities, it aims to make Europe a global leader in photonic technologies.
VIGO Ventures
As a type of financial arm of the (PTPP), in conjunction with Warsaw Equity Group, VIGO System has recently set up VIGO Ventures to provide investment support for companies and start-ups wanting to commercialise photonics technology.
The focus is on the hardware and on R&D leaders who know what they want to commercialise and on companies who are already practitioners in commercialization, with the aim of increasing competitive advantages and paving a faster road to market.
If you started again, what would you do differently?
"First of all, I'd travel more to make more direct contacts with partners and customers. Secondly, I would start earlier and focus more on single targets, which I think can enable companies to grow faster. Thirdly, I'd get involved earlier in European projects and with networking organisations like EPIC".
What words of wisdom do you have for the next generation of entrepreneurs?
"You may be great working on the technology, but don't stay in the lab. Go outside and see what is happening around you and how your technology is being commercialised. Have fun, be ambitious and don't be afraid to take risks. But remember, you can't do it all on your own so take every opportunity to work with partners to achieve your goals".
Written by Jose Pozo, Director of Technology and Innovation at EPIC (European Photonics Industry Consortium)