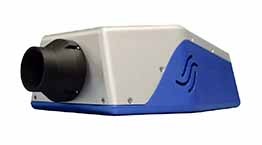 Surface Optics Corporation has announced the release of LightShift™, the world's first commercial light field snapshot spectral imaging system. Based on Surface Optics Corporation's patented, plenoptic spectral imaging design, LightShift instantaneously collects spectral, polarization, and light field data at every pixel. LightShift's multimodal datasets are captured and processed at video rates (28 fps), opening the door to spectral imaging for countless applications concerned with dynamic or time-sensitive environments.
"LightShift is the successor to line-scanning hyperspectral cameras because it images only those spectral wavelengths relevant to the customer's application," said Jonathan Dummer, CEO of Surface Optics Corporation. "Selecting feature wavelengths achieves higher accuracy, faster, than using the full spectra. LightShift's pioneering opto-mechanical design also provides for the capture of polarization and light field information. This important information is not provided by other spectral imaging systems and can increase classification accuracy when combined with multispectral data. Compact, solid-state and operating at video-rates, LightShift is the ideal platform for researchers seeking to mature a spectral imaging solution for commercial or industrial applications."
LightShift will include a range of models covering different portions of the electromagnetic spectrum. Available at launch is LightShift LVIRA (Light Field Visible Infrared Apparatus) spanning the 400-950 nm spectral range.
As the first commercial plenoptic spectral imaging system, LightShift offers unique features:
Acquires multidimensional data cubes in a single integration, eliminating motion artifacts in dynamic scenes
Video-rate processing at 28 fps for real-time action/decision-making
Co-registered spectral, light field and polarization information at every pixel
Per-pixel light field data for virtual change of focus/perspective and depth map estimation
Real-time display and calculation of key polarization parameters, including Degree of Linear Polarization (DoLP), Angle of Linear Polarization (AoLP), and linear Stokes parameters
High quality customizable filter options; choose 16 bandpass filters (or 12 spectral filters and 4 polarizers) specific to your application
Interchangeable filter tray can easily be replaced with new filter options so LightShift cameras can be re-tasked for different applications with different wavelengths of interest
"During the last decade, line-scanning systems have been the prevailing hyperspectral technology used by researchers" said Dummer. "They established spectral imaging as an advantageous, non-destructive characterization tool in a variety of disciplines, while also demonstrating that for most applications you don't actually need, or want, the hundreds of spectral bands produced by hyperspectral systems. During initial research, hyperspectral cameras are excellent for determining feature wavelengths. But the time to scan a scene and large datasets are prohibitive to introducing the technology for time-critical tasks, such as defense or industrial processing applications. This is why we are seeing a growing interest in snapshot spectral imagers like LightShift."
To suit hyperspectral data for a particular task, it is standard to reduce the high dimensional data using post-processing algorithms which select optimal collections of spectral bands or transform the data into a feature space representation. This need for post-processing is reduced significantly by LightShift's filter array.
"The polarization and spectral filter elements of the system are large-scale by design, which provides consistent quality and photometry, reduces fabrication cost and easily accommodates infrared filters," said Jaclyn Nascimento, head of Research and Development at Surface Optics. "By placing the filters and polarizers in a convenient, replaceable tray at the optical pupil of the system, LightShift offers spectral flexibility via a simple filter/polarizer tray substitution which can be tailored to various targets or applications."
By combining imaging modalities LightShift captures more information about the imaged environment then a conventional spectral imager. Light polarization characteristics contains valuable information about objects, such as material and tissue properties, surface roughness, and structural composition. By adding four polarizers to the filter tray, with filter transmission axes of 0°, 45°, 90°, and 135°, the LightShift Pro software can calculate key polarization parameters including Degree of Linear Polarization (DoLP), Angle of Linear Polarization (AoLP), and linear Stokes parameters.
LightShift utilizes a microlens array between the main lens and the image sensor, allowing it to capture the direction of light rays crossing a given plane, also known as the "light field" at that plane.
Light field collection provides depth information about the scene and enables spectral-polarimetric images to be digitally refocused after acquisition,"said Jim Jafolla, President at Surface Optics Corporation. "This can be done during post processing off-line, or in real-time using LightShift's high speed computer."

Surface Optics Corporation is an engineering and manufacturing firm located in San Diego, CA, specializing in optical property characterization and associated technologies.