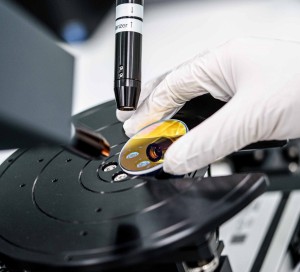 WZWOPTICAG is a world-leader in the manufacture of high-end optical components, superpolished parts and assemblies. EPIC's CTO, Jose Pozo, had the opportunity to interview Claudio Meli, CEO, to learn about the development of this highly successful optics manufacturing firm.
In 2011, Claudio went to Balgach in Switzerland for an interview for the position of WZW´s CFO. WZWOPTICAG had been founded in 1965 by Willi Weder sen. to produce optics for cameras and microscopes and had since gained a reputation for sub-angstrom polishing and high-precision finishing for a range of custom opto-mechanical components.
At that time, WZWOPTICAG was growing rapidly and wanted to strengthen its management team by appointing a CFO who could reorganize their finances. Accordingly, Claudio, who had a background in finance and proven track record in company finance, was hired to help WZW optimize its financial and business operations.
As Claudio recalls, at that first meeting, he was immediately attracted both to Willi Werder´s humanistic qualities and charismatic way of doing business and the prospect of working for one of Switzerland´s major success stories in manufacturing of state-of-the art precision planoptics.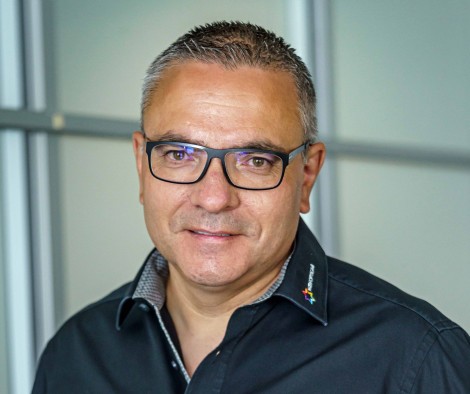 Claudio Meli, CEO
Shortly after his appointment, Switzerland suffered a massive downturn in the value of the exchange rates compared to the Swiss franc. The management team decided to reorganize the whole company and appoint a new CEO. With Claudio´s financial background and expertise in financial planning, Willi Weder, came to the conclusion that he was the ideal candidate.
Company development
Claudio´s first priority was to check the profitability of the company´s various sales segments and optimize the cost structure of the company. The next step was to extend WZW´s infrastructure and investments into different machinery.
By 2013, they had doubled their super-polishing capacity and made additional investments in a goniometer and a digital measuring microscope for the metrology department. Over the next three years, further investments were made in laser scanning and 3D metrology to enable both contact-less and tactile measurement procedures, and in 2016, the company was certified for ISO 9001:2015.
More recently, WZWOPTICAG experienced the biggest investment push in the history of the company. WZW have acquired two new IBS coating machines, an ultrasonic cleaning machine, a new 120m2 clean room ISO-standard 4-6, a new 5-axis cnc machine, a new etching machine, a new environmental test equipment, extending its Superpolishing capacity and a wide variety of metrology devices.
Today, WZWOPTICAG is Europe´s leading manufacturer of high-precision optical components and assemblies with 6 main product lines: Super-polishing of super-polished flat and spherical surfaces with roughness in the sub-Ångström range; Optics, such as beam splitters and precision prisms from DUV to IR; Assemblies and systems; Projects; Engineering including optical design, opto-mechanical system development and production; and High-Quality Coatings.
The company has a world-wide portfolio of customers and is a globally recognized leader in the optics industry in the application fields of defence and security, semiconductor, healthcare and life sciences, research, avionics, and the laser industry.
Success factors
Claudio puts WZW´s success down to the following factors:
Maximum precision: Using state-of-the-art technologies, each piece we create is unique, handmade, and meticulously inspected via a perfected system of process control.
Maximum quality: We are dedicated to the principle of maximum quality and maximum commitment, from ideation and development to production.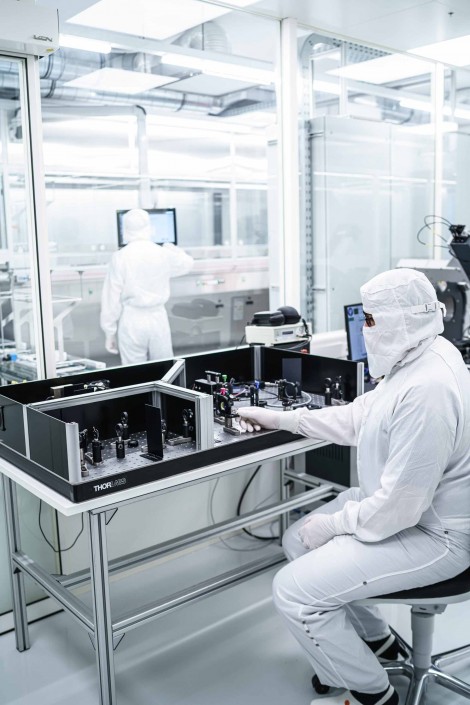 Maximum customer satisfaction: The principles of maximum quality and continuous process optimization are delivered as part of a complete service from idea to development and production.
Company culture: WZWOPTICAG has a culture which operates in the spirit of mutual co-operation and respect and open communication between its customers, partners, suppliers, and employees. The aim is to deliver high quality and continuous improvements in all areas of the company and maintain a sophisticated process control.
But it´s not just about quality; for Claudio, another key feature of WZW´s culture is its focus on the human element i.e., fairness and open communication with its workers and also its commitment to environmental responsibility.
Teamwork: Everyone at WZWOPTICAG is encouraged to be a team player and to work together within a mindset of producing the best quality for the customer and continually looking for improvements.
Testing: WZWOPTICAG has invested heavily in metrology equipment. WZWOPTICAG takes intensive care to align its metrology devices and provide customers with detailed measurements. The company has a complete range of metrology equipment including 3D measurement systems, autocollimators, goniometers, interferometers, environmental test equipment and laser scanning microscopes.
The Swiss approach: For Claudio, being a Swiss company is a big plus factor for WZWOPTICAG. Firstly, the Swiss work ethic and tradition of precision, accuracy and engineering excellence has enabled the company not only to develop its own high-quality products but also to develop a network of local trusted suppliers. As the recent COVID-19 pandemic has shown, it's better to have reliable sources nearby rather than on the other side of the world, and for this reason, a number of Swiss companies are moving away from Asia to local suppliers. The second advantage is the Swiss fighting spirit as exemplified by their response to the crash of the currencies compared to the Swiss franc in 2011. As Claudio says: "We just had to bounce back and re-reinvent ourselves and be better than before. That´s how we operate, and I think we are a perfect example of never giving up and always looking for possibilities in the face of adversity". Furthermore, Switzerland offers a very stable political and economic environment, a very high educational level, efficient and accurate supporting authorities, stable and extending infrastructure and more.
The future
Claudio´s preferred future over the next five years is for WZWOPTICAG to maximize its market share and consolidate its position as a world leader of high-end optical components. The main area of growth will be in high end components and assemblies like super-polishing of surfaces for applications where it´s critical to reduce scattered light of optical elements, either in reflection or in transmission.
WZWOPTICAG is capable of producing polished surfaces with a roughness of less than 1 Ångström on both plano and spherical surfaces and is currently the only commercial manufacturer of super-polished surfaces in Europe and Asia. Consequently, they are in an excellent position to meet the expected increase in demand for super-polished surfaces particularly for more accurate mirrors for laser applications.
If you started again, what would you do differently?
"To be honest, I wouldn't change anything. I´m really happy with what we have achieved. In many ways, I work in a perfect company with a perfect team and I´m very proud of the company spirit we´ve created and the success we´ve had".
What are your words of wisdom for the next generation of entrepreneurs?
"First, whatever industry you´re in and whatever your position is in the market, respect and listen to your team. Also, be a good listener to former leaders of the company and learn from their experience".
"Second, as a new boss, take your time to evaluate any weaknesses and don´t try to change everything at once. Respect your team´s previous achievements and keep all members on board, otherwise it will be impossible to move forward".
"Third, define key financial indicators and implement 5-year strategies for monitoring market positioning and to achieve future growth. Keep an eye on the progress of the team in achieving the objectives, and when necessary, act firmly".
Written by Jose Pozo, Chief Technology Officer at EPIC (European Photonics Industry Consortium).