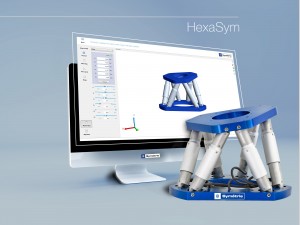 Symetrie
, a specialist in positioning hexapods, launches HexaSym, a free simulator to check hexapods travel ranges and load capacities. HexaSym comes as a game changer that enables customers into choosing the right hexapod.
The hexapod parallel structure brings many advantages compared to a more traditional serial structure: low mass, stiffness, higher load capacity thanks to its distribution on the six actuators… However, the six degrees of freedom interdependence makes knowing the travel range capabilities at a glance harder.
HexaSym simplifies testing cumulative travel ranges on several axes simultaneously, while changing the pivot point, the hexapod orientation (vertical, horizontal, other) and the payload.
HexaSym simulator includes a 3D visualization, which makes possible to see how the hexapod moves according to the commanded positions.
Using HexaSym empowers users in validating the best hexapod solution from the study phase.