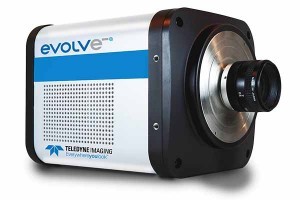 Teledyne Photometrics, part of Teledyne Imaging, and a Teledyne Technologies company, is pleased to introduce new Evolve® EMCCD camera models with pixel sizes of 10, 13, and 16 μm. With proprietary Teledyne technology throughout, Evolve provides a new standard in EMCCD performance and reliability including ultra-highspeed readout and highly stabilized deep cooling.
These high-resolution, back-illuminated EMCCD cameras provide sensitivity of greater than 95% quantum efficiency, making them ideal for the lowest light applications in life sciences. Evolve cameras are especially suited for single molecule imaging and total internal reflection fluorescence (TIRF) microscopy, achieving the best imaging performance when every photon counts.
Evolve cameras utilize electron multiplication to achieve a read noise as low as 0.25e-, without sacrificing frame rate, making them ideal for capturing dynamic events. Evolve camera models can sustain full-frame imaging rates of up to 61 fps in high speed readout mode, with frame rates greater than 4,000 fps when imaging with regions of interest.
Evolve's 13 and 16 μm pixel cameras provide optimum sensitivity, previously limited for EMCCDs due to a lack of smaller pixel size options. Product manager, Rachit Mohindra explains, "With sensor manufacture in-house, Teledyne is able to offer a 10 μm pixel, back-illuminated EMCCD, matching the pixel size for 100x oil immersion microscopes. Evolve cameras deliver the best balance of sensitivity and resolution ever offered by an EMCCD camera."