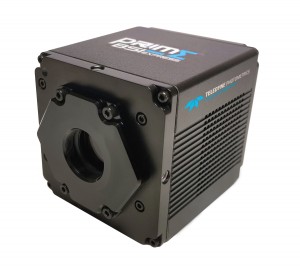 Teledyne Photometrics, a Teledyne Technologies company and global leader in scientific imaging, launches the new Prime BSI Express sCMOS camera. The Prime BSI Express delivers the perfect balance between high resolution imaging and sensitivity with an optimized pixel design, USB 3.2 Gen 2 connectivity and near perfect 95% Quantum Efficiency to maximize signal detection.
The Prime BSI Express builds on the success of the Prime BSI back-illuminated sCMOS camera, delivering the same specifications on a more compact platform and increasing framerate to 95 frames per second over USB 3.2 Gen 2.
Designed for instrument designers and system integrators, the small form factor ensures that the Prime BSI Express fits into the broadest range of configurations. This, combined with the ease of USB 3.2 Gen 2 connectivity, makes interfacing and integration simple. The near perfect 95% quantum efficiency coupled with Correlated Multi-Sampling (CMS) maximizes the amount of light captured, even at the dimmest levels, and the 4.2-megapixel sensor provides high-resolution imaging over a large imaging area.
Key features:
>95% peak QE, Correlated Multi-Sampling (CMS)
95 frames per second, full-frame, over USB 3.2 Gen 2
4.2 megapixel resolution
6.5 x 6.5 µm pixel area
"The compact form factor of the Prime BSI Express ensures that instrument designers are able to integrate one of the most capable scientific cameras into their systems," said Joe Deasy, Associate Product Manager at Teledyne Photometrics. "It was key to not only maintain the convenience of a USB interface, but to also deliver a high framerate."