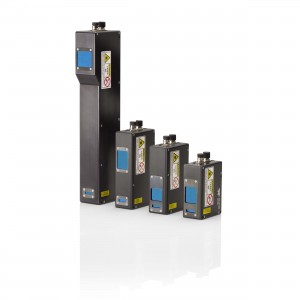 Teledyne will showcase their newest products and vision solutions at the Automation Expo 2023 exhibition taking place August 23-26 in Mumbai, India. Teledyne's DALSA, e2v, FLIR IIS, FLIR Solutions, ICM, businesses will display a range of imaging products, from components to integrated systems. Visit Teledyne at Hall 2, booth N1, N2 and experience live demonstrations of the company's advanced technology from your one source for unlimited vision solutions partner.
Products on display will include:
Teledyne DALSA's Sherlock®8 vision system software acquiring and processing images from Linea™2 RGBN and Linea Lite line scan cameras.
Teledyne DALSA's new Z-Trak™2 2K 3D profile sensors target cost sensitive, in-line metrology applications, delivering 2K samples per profile and horizontal resolution of 3.5 microns. Multiple Z-Trak sensors can inspect and measure a full 360° view of an object.
Teledyne DALSA's AxCIS™, a new family of line scan imaging modules that combine contact image sensor (CIS), lens, and illumination in a compact housing. The AxCIS camera modules enable 100% defect detection during the roll-to-roll manufacturing process and are ideal for EV battery and print quality inspections.
Teledyne DALSA's BOA™ SPOT, a smart camera, performing real-time, high-speed 1D and 2D barcode decoding.
Teledyne FLIR IIS will demonstrate their custom-embedded stereo camera for 3D perception and deep-learning-based human detection. Embedded stereo cameras are suitable for robotic guidance and situational awareness applications.
Teledyne e2v's newly released Optimom™ MIPI CSI-2 optical modules are available in 2-Megapixels and 1.5-Megapixels, monochrome, and colour versions. Optimom's proprietary sensor technology and flexible optics configurations are designed to ensure rapid development for vision-based embedded systems for robotics, logistics, drones, or laboratory equipment.
Teledyne FLIR IIS' Ladybug®6 delivers remarkable quality and spatial accuracy in 360-degree spherical imaging. The Ladybug6 is designed from the ground up to capture images on moving platforms in all-weather conditions.
Teledyne FLIR Solutions will demonstrate the Axxx-Series™ Thermal Image Streaming Cameras and the FLIR T840™ infrared cameras that monitor the condition of assets across a manufacturing facility. These versatile cameras help identify problems before failures occur, prevent costly production stops, spot process anomalies that can flag dangerous situations early, and help in improving the overall safety in a workplace.
Combined with Teledyne DALSA's Sherlock 8, GEVA™ 4000, a multi-camera industrial vision system, shows anomaly detection on 3D images. The AI models trained using Astrocyte™, an AI training tool.
Other featured products include Teledyne DALSA's Shad-o-Box™ 6KHS and Sherlock 8. Teledyne ICM's Go-Scan™ 4335, along with Teledyne FLIR Solutions' A500f/A700f™ Advanced Smart Sensor thermal cameras too will be on display.