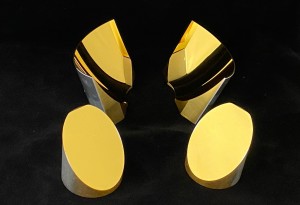 Non-symmetrical freeform optics such as off-axis mirrors or parabolas create unique thin-film coating challenges. AccuCoat inc offers you our proven process from custom design to prototype through volume production to handle most coating needs for shaped metal substrates. Frequent requests include coatings for lidar spinners, off-axis mirrors, parabolas, or polygons. Dielectric protective coatings may be added to extend the life of your optics. Substrate sizes from 5 mm to 600 mm are coated beautifully by leveraging our customized and adjustable in-house tooling just for your optic substrates. This allows for a reduction in NRE tooling charges and shortened lead times.
Frequently taking on custom coating work that has failed elsewhere, AccuCoat is able to problem solve and create a repeatable coating design effectively. To complete each order, we carefully manage the project through shipping for worldwide, on-time delivery.
With over 20 years of experience and problem-solving technology, our highly trained coating team is ready to alleviate your performance frustration, bump up run volumes, and extend optic performance.
Contact one of our engineers today to discuss your next thin film coating on shaped metal optics.