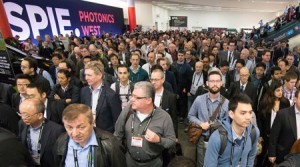 Last week at Photonics West, the conference rooms and exhibit halls were busy as usual, despite the coronavirus threat. However, many, many Chinese companies were not present. Lumentum had its booth in place, but a sign indicated that it would not be staffed, due to the virus.
Trends seen throughout the event were what one could expect: AR/VR/MR, vision, lidar and autonomous technologies, and an increased focus on solving problems within applications.
In a presentation by Evan Nisselson, General Partner and Founder of LVD Capital., highlighted the role of "visual technology" in our everyday lives. Cameras are everywhere and increasingly in our devices, and while cameras and camera components are experiencing exponential growth (he estimated that there will be 45 billion cameras by 2022), what is key is how we use the visual data. He said that the next wave is the "internet of eyes," where vision is connected across sectors. Some examples he gave include the possibility for mirrors to have sensors that could track health issues. Autonomous maritime can automate boats and cargo ships. Videos can train computers to understand gesture recognition. Alexa can do our shopping for us, and it can be delivered by an autonomous robot. He concluded by saying that optics and photonics are critical to the future. "It's just the beginning."
Industry Update: Trends and outlook
"Photonics is a big deal," said Stephen Anderson, Director, Industry Development, SPIE, in the industry update that summarized the results of the latest global study. To put the value of photonics into perspective, the global GDP in 2018 was about $84.8 trillion. The value of light-enabled products and services is estimated to be between $7 and $10 trillion. So, the value of photonics is about 11% of the world's economy.
Anderson highlighted key findings in the Optics & Photonics Industry Report 2020. The report looks at the photonics value chain, which starts with raw materials and progresses through optical components and sub-systems to photonics-enabled products. The optical component and sub-system manufacturers may consider themselves to be part of the photonics industry, however, that is not necessarily so with the photonics-enabled products. Smartphone manufacturers, for example, would not say that they are in the photonics industry, even though the end product is made up of many photonic components.
Ten major end-use markets
Photonic components are sold into ten major end-use market segments, which range from the consumer product segment to the advanced manufacturing segment to healthcare and life sciences. The end-use products are part of our everyday lives—helping us to communicate with smartphones, work on computers, stay safe with security systems, generate energy with solar, stay healthy with light-enabled diagnostics and more. Overall, photonics-enabled products underwrite 4 million jobs in the world. In 2016 those markets included:
Optical communication
Semiconductor
Consumer & entertainment
Defense
Solar—PV
Displays
Biomedical
Lighting
Sensing
Advanced manufacturing
Each segment has different growth rates, which change over time as market conditions change. The top five growth segments from 2012 to 2020 were:
Solar—PV
Defense, safety and security
Advanced manufacturing
Optical communication
Sensing, monitoring and control
China and the unknown
Looking at where the components manufacturers are located, 52% are in Asia, 24% in Europe, 23% in North America and 1% in ROW. With the coronavirus affecting manufacturing in China, the result could delay manufacturing and shipment of critical components for manufacturers throughout the value chain.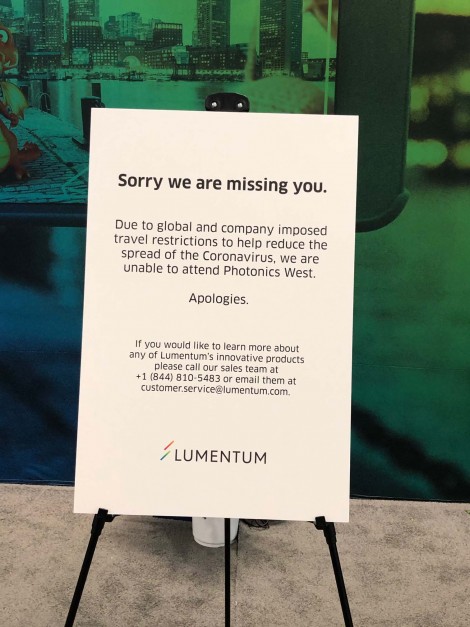 The display panel industry, for example, is already seeing a disruption in its supply chain as five factories in Wuhan, China have shut down due to the coronavirus. China is expected to manufacture 55% of the world's displays in 2020, and therefore, is impacting the decrease in availability and an increase in pricing for LCD-TV panels. Notebook and monitor makers may also face panel shortages.
"Display facilities in Wuhan currently are dealing with the very real impacts of the coronavirus outbreak," said David Hsieh, senior director, displays, at IHS Markit technology research. "These factories are facing shortages of both labor and key components as a result of mandates designed to limit the contagion's spread. In the face of these challenges, top display suppliers in China have informed our experts that a near-term production decline is unavoidable." For more on HIS Markit's analysis, read "Coronavirus Disrupts Display Panel Production in China.
Summary
In 2018, the demand for photonic components underwrote more than 1 million jobs worldwide. The industry is somewhat immune to economic cycles due to the diversity of end-use products and breadth of the application areas they serve—from medicine to autonomous to agriculture and beyond. SPIE estimates that revenues for 2020 will reach $328 billion, which is an increase of 16% over 2018. While the future is uncertain, due to a possible continued slow-down in production in China, the photonics industry is healthy, growing and continues to outpace the GDP.
Written by Anne Fischer, Managing Editor, Novus Light Technologies Today