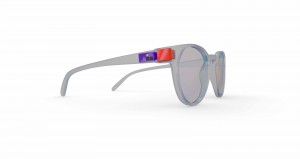 TriLite, developer of the world's smallest projection display, announced today that it has raised €8 million in a new round of funding, enabling its customers to bring mass market augmented reality eyewear to the consumer market.
The participants in the funding round included APEX Ventures, B&C Innovation Investments, Hermann Hauser Investment, TEC Ventures and QC·Ventures among others. It follows an earlier seed funding round in December 2019.
TriLite's ultra-compact projection displays are ideal for consumer augmented reality (AR) and mixed reality (MR) applications, enabling AR/MR glasses to finally overcome the bulkiness and weight that has so far prevented their mass market adoption. Worldwide shipments of head-mounted displays (HMDs) are forecast to grow at an annual rate of 60% CAGR between 2020 and 2027. TriLite's unique laser beam scanner (LBS) technology is an essential enabler of this growth.
Building upon pioneering research over the last ten years, TriLite's Trixel 3 is the world's smallest and lightest projection display, with a total volume of just 0.92cm3. Trixel 3 incorporates a micro-optical RGB laser light source and a micro-electro-mechanical system (MEMS) mirror, enabling it to generate bright, high-quality images while setting benchmarks for lowest power consumption.
In addition to its market-leading hardware, TriLite has invested heavily in innovative software, which makes it simple for developers to adopt its solutions. The software includes proprietary calibration algorithms that enable the size and complexity of the optical system to be minimized.
TriLite offers a manufacturing platform that accelerates time-to-market of its customers and provides a robust, high-volume supply chain. Through this platform, TriLite combines its own manufacturability expertise with industry-leading partners to secure a successful production ramp for end-customers.