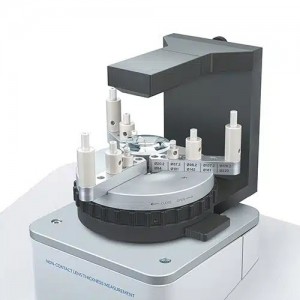 TRIOPTICS introduced the new version of the OptiSurf® center thickness measurement system. All variants that operate with a test wavelength of 1.3 µm have been enhanced with an extensive upgrade to optimize data collection as well as the communication interface. "For users, this means a shorter measuring speed, which is now three times faster than before," explains Division Manager Dr. Patrik Langehanenberg. "Our OptiSurf® thus offers the fastest center thickness measurement on the market for complex lens systems with optical path lengths greater than 50 mm."
At the same time, all OptiSurf® systems were upgraded with new software, which enables a more intuitive operation and a very long-range programming environment for customer-specific applications.
The launch of the new LensGage upgrade module has significantly expanded the range of applications for the OptiSurf® LTM. "It enables measurement of the center thickness without requiring knowledge about the material and boasts a measuring accuracy of 1.5 µm. Furthermore, it can be used to determine the group refractive index of single lenses with a precision of ~10-4 for production control purposes — e.g. in critical manufacturing processes such as injection molding," explains Langehanenberg. Based on this information, it is also possible to determine or at least limit the material by comparing it with the glass database stored in the software.
The LensGage module is comprised of two glass plates, one above and one below the sample, which supplement the existing sample holder. The glass plates form the boundary of the measuring cell, which is used to calculate the center thickness or the group refractive index. This process is also embedded in the software so that the desired value can be read directly. It is easy to switch between the LensGage and traditional measurement by simply removing the lower glass plate. The high thermal stability of the module delivers reproducible measurement results and the LensGage is easy and convenient to calibrate.