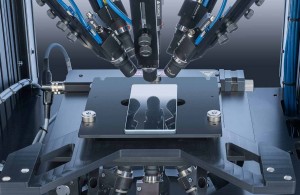 TRIOPTICS expands the portfolio of ImageMaster PRO measurement systems with three new model variants. The company thus offers customized solutions for measurement requirements that result from the latest technology trends for smartphone camera optics.
One new technology in the mobile phone market is under-display camera technology - camera optics are almost invisibly hidden under full-screen display surfaces. High-resolution, professional photography and the zoom capability of cameras are two further key drivers for the future. All three trends cause new challenges for measurement technology, for which TRIOPTICS is now launching customized measurement solutions for image quality testing.
One of the three new measurement systems - ImageMaster PRO Display for image quality measurement of smartphone displays - will be presented to visitors at Touch Taiwan in Taipei.
"It can be assumed that the under-display camera technology will be used in the future especially in the selfie cameras of smartphones as well as in tablets," explains Product Manager Stephan Marschner. Measuring the image quality of displays, with a hidden camera under the display, is also new territory for the market leader TRIOPTICS, as this involves precisely determining the influence of the display glass on the image quality. "Due to the MTF measurement, optimized for this application, the ImageMaster® PRO Display performs the precise measurement of the display within one second."
The ImageMaster PRO HD is a newly developed device to meet the measurement requirements of new types of high-resolution smartphone optics. With 43 integrated field positions (cameras), the system enables a particularly high measurement point density. "This enables the quality assessment of very complex, high-quality optics such as free-form lenses," "which is a must for quality assurance in the field of high-resolution photography with mobile phones." says Stephan Marschner.
TRIOPTICS GmbH is a company with operations around the globe. Headquartered in Germany, it has subsidiaries in the United States, France, Singapore, China, Taiwan, Korea, and Japan. TRIOPTICS products are sold by distributors in the United Kingdom, Russia, Turkey, Israel, India, and Vietnam. Since September 2020 TRIOPTICS belongs to the photonics group Jenoptik.
TRIOPTICS offers the world's most comprehensive portfolio of optical measurement, inspection and manufacturing technology for development, quality control and production. Our expertise ranges from the inspection of individual optical components to the assembly and testing of complex camera systems. TRIOPTICS products are used in all industries that are involved in the manufacture, inspection, and application of optical assemblies. In particular, these include the optical, automotive (ADAS), mobile phone and VR/AR application industries as well as the medical optics and aerospace sectors.