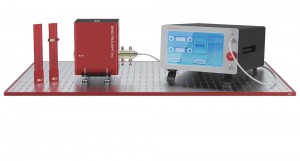 Spectrolight has always specialized in solutions for wavelength selection and bandwidth adjustment with their innovative TwinFilm technology. Now, they have taken this technology one step further to provide a fully tunable light source - the Tunable Laser System (TLS).
The Tunable Laser System is the all-in-one tunable light source system that enables precise selection of a broad spectral range between 410 - 1650 nm and easy bandwidth adjustment beween 3 - 15 nm. This Plug and Play system consists of a powerful pico-second pulsed supercontinuum laser light source, the tunable bandpass filter (FWS-Poly), a mounting base for FWS-Poly, full software installed laptop PC and all necessary linker accessories.
It requires no alignments or adjustments allowing instant application. The Tunable Laser System can be widely applied to fields such as fluorescence microscopy, hyperspectral imaging, Raman imaging, time-resolved spectroscopy, medical diagnostics (in vivo, vitro, wearable), medical imaging, life science instrumentation, semiconductor fabrication, machine vision, and laboratory research, etc.