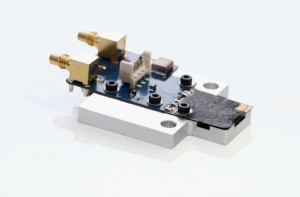 PicoLAS announced two new laser diode drivers designed specifically for lidar (Light Distancing and Ranging) applications. They feature an ultra-compact driver electronics board of just 19x20mm onto which a laser diode can be directly mounted to minimise inductance. This driver board is supplied coupled to a connector board to enable simple interface.
The LDP-AV 1N50-200 and LDP-AV 1N50-450 can achieve output currents of 200A and 450A respectively with a fixed pulse duration of 5ns and repetition rate of up to 200kHz.
These boards are an ideal flexible platform to install and test laser diodes.
Customization of these driver boards is also possible, for example laser diode pad position or pulse duration.