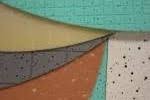 Universal Photonics, manufacturer and global distributor of critical surface preparation materials, has announced the acquisition of Massachusetts-based J.I. Morris Company's surface polishing pads and materials business.
J.I. Morris Company develops materials to improve surface finishes, offering a range of interfaces for industrial polishing discs, polishing pads and other custom applications.
The business will operate in the JH Rhodes Company manufacturing facility in Vernon, New York (US). JH Rhodes Company is a subsidiary of Universal Photonics and specializes in manufacturing polishing pads, typically for glass, crystal, metal and ceramic applications.
UPI offers a wide selection of polishing pads for processes from pre-polish to final-polish with surface requirements ranging from commercial grade to zero-defect levels.
UPI offers custom cutting of polishing pad materials with regard to sizes, shapes and dies, enabling optimum solutions to individual challenges and necessities.