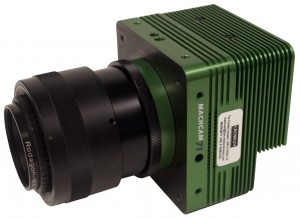 After making its first international appearance in 2016 at Stuttgart's VISION show, the MACHCAM 71, a 71-megapixel camera designed by The Crowley Company, will appear in its next generation 6–8 November at the biennial conference.
In use worldwide in a variety of machine vision and cultural heritage applications, the MACHCAM 71 offers high resolution and a wide field of vision suitable for inspections, surveillance and digital reproductions.
MACHCAM 71 version 1.5
Engineered by Crowley and using a CHR70M sensor, the MACHCAM 71 camera is a 71-megapixel area array camera designed specifically for applications that require high resolution to capture fine details.
For machine vision applications, these can include:
LCD/PCB inspection
Aerial imaging
Packaging and inspection
Scientific imaging
Military and law enforcement security
Less than 4"/10 cm square, the MACHCAM 71 delivers with a Pleora software development kit and is USB 3.0 compatible. The MACHCAM 71 pairs with Cognex VisionPro and other key machine vision industry software to further enhance versatility. The 1.5 version of the MACHCAM 71 includes an external trigger for enhanced capture options in automated environments, bootloader capability allowing for FPGA firmware updates and an automated calibration processor for optimal image results, which can vary from sensor to sensor.
Demos and Consultations in Hall 1/Booth F84
A working MACHCAM 71 will be available for demonstrations in Hall 1/Booth F84.
Additionally, it will be seen as integrated into the TrueImage M1000, a new-to-market scanner developed in partnership with ID Scientific which will simultaneously debut at the Anti-Counterfeit & Currency Expo/North America in Las Vegas, Nevada (US). The TrueImage M1000 has been engineered to quickly and efficiently identify fraudulent identity and financial documents by those with little or no identification knowledge or training.
Also on hand will be a MACHCAM 120 prototype, which utilizes Canon's 120-megapixel image sensor.
The MACHCAM 71 is currently available as a single use item and for volume OEM opportunities and is available for on-site testing with some restrictions.