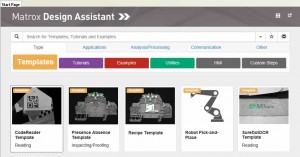 Matrox Imaging will be at Vision Stuttgart from November 6-8, in a larger-than-ever booth (1E17).
This year's focus is on the newest version of Matrox Design Assistant flowchart-based software, including new tools for image classification using deep learning and image registration using photometric stereo. These tools will illustrate inspection and OCR of hard-to-see text.
Paired with this software will be a Matrox Iris GTR smart camera and a Matrox 4Sight GPm vision controller with a GigE Vision camera, demonstrating the extent of platform flexibility. Matrox Rapixo CXP —a CoaXPress 2.0 frame grabber programmed using Matrox Imaging Library (MIL) software—will conduct high-speed video capture with a CXP area-scan camera. The newest vision controller, the Matrox 4Sight EV6, will likewise be on display.
Booth 1E17 will also feature demonstrations highlighting reading of PharmaBraille text, 3D profiling for tire tread inspection, and verifying ID marks using feature-based OCR. These demonstrations will highlight the depth of expertise found within the Matrox Imaging global network.
Visit Matrox Imaging at booth 1E17; professionals will be on hand to discuss a wide range of vision project requirements involving smart cameras, vision controllers, I/O cards, frame grabbers, and full-fledged software.
Featured products:
Matrox Design Assistant
An integrated development environment (IDE) for creating machine vision applications using a flowchart instead of traditional program code. Latest updates include new tools for image classification using deep learning, photometric stereo, dedicated shape finders, and native support for 3D sensors, among others.
Matrox Imaging Library (MIL)
A comprehensive software development kit (SDK) with tools for application feasibility to prototyping, development, and deployment. An interactive demo area will allow attendees to see the MIL CoPilot interactive environment for experimentation, prototyping, and code generation, as well as the latest advances in image classification using deep learning.
Matrox 4Sight EV6 – Coming soon!
A fanless industrial computer based on an Intel 7th-generation Core processor and built for the factory floor. Multiple Gigabit Ethernet ports facilitate multi-camera inspections, while PoE support helps simplify cabling.
Matrox Rapixo CXP
A family of frame grabbers supporting the CoaXPress 2.0 digital interface standard. A separate FPGA development kit (FDK) enables development of custom FPGA configurations to offload and accelerate image-processing functions from the host system.
Matrox Iris GTR
A line of compact, capable smart cameras designed for tight spots and dirty industrial environments. Matrox Iris GTR offers software flexibility, pairing readily with the Matrox Design Assistant flowchart-based IDE or MIL SDK.

Matrox Vision Academy
A comprehensive library of on-demand instructional material on how to use and deploy MIL and Matrox Design Assistantvision software. Designed to deconstruct complex topics into micro-learning modules, Matrox Vision Academy facilitates self-directed, just-in-time learning.

Matrox Professional Services – Coming soon!
An offering of deeper technical assistance to help customers save valuable development time and deploy solutions more quickly. Services include personalized training, assessing project feasibility, application prototyping, troubleshooting, and debugging, and device interfacing.