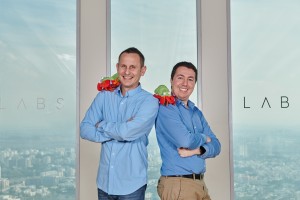 Voyage81 is a company that developed a revolutionary software technology to radically improve the ability of standard sensors to provide high spectral resolution and improved performance in low light conditions. Jose Pozo, EPIC's CTO, spoke with Niv Price, CEO & Co-Founder of Voyage81, about his career and company development, plus valuable advice for new entrepreneurs.
Early career
After graduating with an M.Sc. in Electrical Engineering from Tel Aviv University in 1995, Niv joined the Israeli Defence Forces. He stayed with the Israeli military for the next 22 years, initially working as an electrical engineer and in 2011, he joined the electro optics unit, where for the first time, he came into contact with the real world challenges of photonics.
For Niv, the next six years were a fantastic experience, not only because of the knowledge he gained in photonics but also because of the camaraderie and team spirit in his unit. His unit's motto was 'if you have the will, the knowledge and dedication you can make the impossible possible'. As he recalls: "There was a unique combination of ages and experience in the team and we all felt we were doing something very important. We worked on challenging products in a deadline driven environment and without the team spirit we wouldn't have been able to make the impossible possible".
By 2017, Niv had been promoted to Head of the R&D Department leading 300 professionals and managing the R&D, production and deployment of state-of-the-art technological systems, which included budget, human resources and operations.
Voyage81
As he was approaching the common retirement age of 45, Niv began to consider his future options. Having worked for 22 years in a large organisation, he wanted to start something from the ground up, and, inspired by some of his fellow alumni from the unit who had developed successful high-tech start-ups, he decided to start his own company.
For Niv, the experience and core values learnt in the military - working to deadlines, the feeling of working on important technology and the need for team spirit to make it happen - were ideal preparation for developing a start-up.
Shortly after retiring, Niv met Rafi Gidron, a serial entrepreneur and Angel Investor. They decided to work together and began to look for ideas for a new company. By chance, Niv read an article in a defence journal on hyperspectral imaging by Boaz Arad who was just finishing his PhD at the Ben-Gurion University in Israel. Boaz and the university were looking for ways to commercialise the technology, and the rest, as they say, is history.
Embarking on a new voyage after retiring from unit 81, Niv (CEO) founded Voyage81 in 2018, together with Boaz (CTO), Rafi as Chairman and Omer Shwartz as Software Lead.
The technology
The human eye, like most cameras, is limited to three colour channels, red blue and green (RBG), which are combined in various degrees to create a variety of different colours. While this is suitable for most purposes, in the real world there are a multitude of colours which cannot all be accurately perceived with just three colour channels, particularly in low light. For example, existing automotive sensors are unable to detect dark road obstacles, black ice or black tires on black asphalt, Similarly, smartphone photography, secure face recognition (anti-spoofing) and other security and safety applications are extremely limited in low light conditions.
Voyage81's mission would be to design and develop hyperspectral, low-light computational imaging software to augment camera sensors and to make the invisible visible by allowing machines to see the real world. Specifically, their software would enable conventional cameras to increase their spectral resolution and capture many wavelengths, using machine-learning techniques to provide low-cost, consumer-grade sensors with hyperspectral capabilities.
Company development
Hyperspectral imaging has been used chiefly in low volume applications in areas such as topography, environmental monitoring, and quality control of seeds, food and pharmaceuticals. But from day one, Voyage81's mission was to make the technology accessible to new consumer industries such as automotive, smartphones, cosmetics and skin-care.
In this context, a major milestone for the company has been entering into a partnership with a leading mobile phone company. As Niv explains, by making a small hardware modification to the camera, the existing RBG filters can be replaced with Voyage81's unique filters, which give the camera much better performance in low light.
In the past two years, the company has grown to a workforce of 12 and for Niv, a major factor in the company's success has been Israel's unique and vibrant ecosystem: "The vibe and attitude here in Israel is amazing. Companies really want to cooperate and help each other and for me, it's hard to think of doing it any anywhere else".
The future
Applications: The fact the company is already in a mobile phone platform will make it a lot easier to push their cost-effective hyperspectral sensing to other mobile companies and a variety of other applications like e-health. In this respect, Voyage81 are currently working on visible wavelengths from 400 - 700nm, which have a lot of potential for monitoring skin health, and in future they plan to investigate the full potential of near IR.
Other key applications include material-sensing for the automotive industry to improve detection of road obstacles that are not currently identified by existing automotive sensors in low-light, and applications to improve colour accuracy for low-light imaging in areas such as secure face recognition and other security/safety applications.
Technical challenges: The industry has been working with RGB filters for decades and apart from the technical challenges, replacing these with Voyage81's filters will require a paradigm shift.
A second and related technical challenge is that as Voyage81 is a fabless software design company, they will need to partner with big semiconductor players who are not only willing to fabricate the filters but who also have the reach to push for a the required paradigm shift in their end users.
If you started again, what would you do differently?
"Everyone makes mistakes and sometimes along the way I've looked at other people and thought maybe I should have done the same. But mistakes are part of the journey and at the end of the day, there isn't a right or a wrong way - it's your way. So instead of trying to think about what you'd have done differently, I would say enjoy the journey; it's your journey so embrace it".
What advice do you have for the next generation of entrepreneurs?
"Like I've just said, there's no right or wrong way so do it your way, be happy and pursue your unique way. Secondly, if you become an entrepreneur, be ready for a for a roller coaster ride. Third, and most importantly, the best preparation for this roller coaster is to pick your partners very carefully".
Written by Jose Pozo, Director of Technology and Innovation at EPIC (European Photonics Industry Consortium).