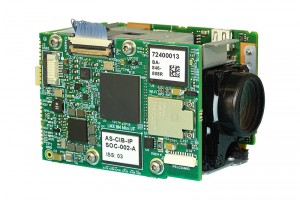 Active Silicon launched the Harrier IP camera series for networked image and video transmission. With the addition of WiFi capability, Harrier autofocus-zoom cameras have added even more flexibility to Active Silicon vision systems. Harrier IP Camera Interface Boards with a wireless module fitted support wireless communications over WiFi.
Using the Harrier IP Camera Interface Board technology, Harrier IP cameras transmit and receive data over a network or the internet. The interface board compresses the camera LVDS video signal (using H.264) and converts it to an RTP video stream that is transmitted across the network. Harrier wireless IP cameras are ONVIF Profile S compatible so any Profile S compatible user-developed software or 3rd party application can be used to control the camera over the IP connection. However, Harrier AFZ camera modules offer more capabilities than the Profile S API supports, these additional camera features can be controlled by sending VISCA commands from the Harrier IP Website (served by the Harrier IP Camera Interface Board), or by using an ONVIF DeviceIO service API function. The Harrier IP Website is also used to view and set the WiFi network settings.
Wireless IP cameras are vital tools in networked surveillance, medical imaging and remote inspection. Harrier IP cameras are well-suited to use in UAVs and ROVs due to their small size, low weight and powerful imaging capabilities. All Harrier IP camera modules also benefit from extremely low latency, delivering real-time video for industrial, scientific and defense applications.