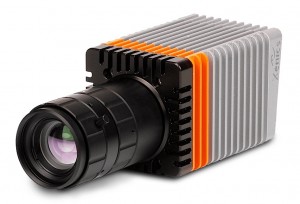 Xenics, a specialist in infrared imaging solutions, cameras and customized solutions, will exhibit at VISION 2022 from October 4th to October 6th in Stuttgart.

This major exhibition is a good opportunity for Xenics to demonstrate its Wildcat SWIR camera family and to present its last member: Wildcat+ 640, 300 Hz.

During the exhibition, demonstration of both Wildcat 1280 and Wildcat+ 640 will be done.

With Wildcat 1280, Xenics offers the high resolution (1280x1024) with a small 5 µm pitch enabling a compact camera.

The new Wildcat+ 640 targets high performance with a very sensitive 20 µm pitch and a frame rate up to 300 Hz.

Wildcat cameras are designed as a global family, meaning their share the same interfaces (USB and CameraLinkTM) and standard features:
2 triggers in and 2 triggers out
Possible filter integration to select a specific SWIR waveband
TE1 sensor temperature stabilisation with heating and cooling possibility to get the most stable performances whatever the environment
In addition, Wildcat family cameras are GenICam compliant, and the Linux compatible SDK makes their integration very straightforward.

Thanks to its optimised design and its VGA and SXGA offer, Wildcat family is the reference for Machine Vision and gives the adapted answer for industrial applications such as high precision inspection in laser monitoring, semiconductor industry, 3D printing and other industrial applications.

As Machine Vision also demands high-speed linear array for some applications such as sorting or OCT inspection, Xenics will demonstrate Manx camera: the highest SWIR line-scan camera available on the industrial market.

In addition to SWIR cameras, Xenics will also present high-performance thermal products:
Ceres T 640: the most advanced and highly stable uncooled thermal camera dedicated for thermography
Ceres V 1280: the high definition thermal camera specifically designed for industrial applications.
Thanks to the wide portfolio and innovative products in SWIR and LWIR, Xenics is now a one-stop shop for all IR applications from low cost to the very demanding highest-grade ones.

All Xenics' team is ready to welcome you at their booth 10E55 to help you with SWIR and uncooled LWIR solutions.