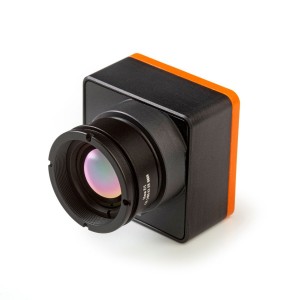 Dione S 640 has been announced today as the new SWaP high performance uncooled long-wave infrared (LWIR) camera from Xenics.
Xenics is Europe's leading developer and manufacturer of advanced infrared sensors, cameras and customized imaging solutions from the short-wave infrared (SWIR) to the LWIR realm.
Dione S 640 is a VGA (640x480 pixels) 12µm pitch LWIR camera optimized to meet today's increased demand for smaller size, lower weight, higher resolution and lower power (SWaP) with no compromise on electro-optical performance.
The Dione family is growing with this new product dedicated for highly demanding applications in the safety and security markets as well as industrial applications.
Dione S 640 is the solution when there is a need for the ultimate SWaP configuration with no compromise on electro-optical performance and speed of correction:
for high-end hand-held thermal imagers (HHTI) and thermal weapon sights (TWS) where size and weight are critical but also image quality is essential
for drone accurate observation where customers will benefit from a very stable picture
for driver vision enhancement where low latency enables customers to benefit from a real-time perception and simplify image fusion.
for remote-controlled weapon station with long-time operation combined with excellent image stability.
for thermal industrial inspection where operation times are long and request high image stability.
for medical applications where speed of correction and electro-optical performances are a must.
Dione S 640 demonstrates that SWaP and high optical performance are compatible. This will open a new era in safety and security as well as industrial thermal analysis.
Xenics has plans for other new products within the Dione family scheduled in 2021.