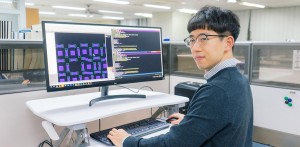 Yonghwi Kwon is the 2022 recipient of the $10,000 Nick Cobb Memorial Scholarship by SPIE, the international society for optics and photonics, and Siemens EDA — formally Mentor, a Siemens company — for his potential contributions to the field related to advanced lithography.
The Nick Cobb scholarship recognizes an exemplary graduate student working in the field of lithography for semiconductor manufacturing. The award honors the memory of Nick Cobb, who was an SPIE Senior Member and chief engineer at Mentor Graphics. His groundbreaking contributions enabled optical and process proximity correction for IC manufacturing. Originally funded for three years ending in 2021, the Nick Cobb Scholarship will be awarded to one student annually for an additional period of three years, through 2024.
Kwon is pursuing an MS-PhD integrated course at the School of Electrical Engineering at the Korea Advanced Institute of Science and Technology (KAIST). Working under supervision of Professor Youngsoo Shin, Kwon's primary research areas are machine learning guided physical design, computational lithography, and low power design, with a particular interest in integrating the manufacturing process of lithography with the design process. During his doctorate work, Kwon will pursue his research in computational lithography while utilizing and applying adoptive machine-learning techniques. His goal during that time is to make a reinforcement-based standard cell layout generator that takes into consideration manufacturability, power, and area, with future plans to create a company post-graduation. Kwon received his BS from KAIST's School of Electrical Engineering.
"I am truly honored to receive the Nick Cobb Memorial Scholarship," Kwon said. "Since Nick's work on OPC is a fundamental basis of my work on computational lithography, this scholarship is especially meaningful to me. While the sub-nanometer era is coming up, the integration of lithography technology and design technology will be important to keep advancing the process development. This scholarship motivates me to connect the dots between the lithography and design fields. I am excited with the strong support to continue my research. Also, I am looking forward to presenting my research, as well as attending talks and presentations on upcoming SPIE conferences."
"We are pleased to again be collaborating with SPIE to award the fourth annual Nick Cobb Memorial Scholarship to Mr. Yonghwi Kwon," says Steffen Schulze, Vice President of Product Management Calibre Semiconductor Solutions at Siemens EDA. "The scholarship honors Nick's fundamental work in the field of lithography and his many contributions as the chief architect of Mentor's Calibre OPC solutions. Mr. Kwon has 16 papers either published or in review on applying neural networks to optical proximity checking, SRAF print prediction, and other lithography topics. We are proud to continue this legacy of promoting innovation and engineering talent."
Siemens EDA is a world leader in electronic hardware and software design solutions, providing products, consulting services, and award-winning support for the world's most successful electronic, semiconductor, and systems companies.