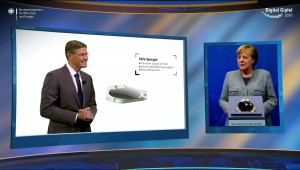 At the Digital Summit of the Federal Ministry of Economic Affairs and Energy (BMWi), which took place in an entirely virtual format for the first time yesterday and today, representatives from politics, business, science and society exchanged views on the latest developments in the field of digitalization. This year, the Digital Summit focused on the topic of "More Sustainability by Means of Digitisation."
ZEISS presents EUV technology to the Chancellor
Traditionally, summit highlights include the exhibits, which are presented to Chancellor Angela Merkel during a tour. ZEISS was selected to give a technology presentation during this year's virtual tour: Dr. Karl Lamprecht, President & CEO of the ZEISS Group, presented EUV technology, an innovation "made in Germany," which received the German Federal President's Award for Technology and Innovation (Deutscher Zukunftspreis) last week, to the Chancellor. EUV technology represents the latest in chip manufacturing technology using extreme ultraviolet light (EUV). "With EUV, we are advancing digitalization. We are enabling major progress in both the miniaturization and energy efficiency of chips, and hence of digital devices and infrastructure," explained Lamprecht. The virtual tour, presented by Tagesschau newsreader Judith Rakers, was broadcast this year via livestream, just like the entire Digital Summit.
EUV technology at a glance
EUV stands for "extreme ultraviolet," i.e. light with an extremely short wavelength, which is used in semiconductor production to create extremely fine chip structures on wafers. In the lithography process, circuit paths just five nanometers wide ' five thousand times thinner than a human hair ' are laid down on state-of-the-art chips. Far more powerful, energy-efficient and cost-effective microchips can be produced than ever before with this extremely high-resolution technology. Successful digitalization would be impossible without a significant increase in computing power: Today, a smartphone has a million times more computing power than the computer that accompanied the first Moon landing in 1969. This is made possible by a microchip barely the size of a fingertip, which, in the latest chips, contains around sixteen billion transistors. This future-proof technology, which is protected by over 2,000 patents, forms the basis for future technical progress and the digitalization of our everyday lives. It is an example of the technological and economic value added that can be achieved through cooperation, a spirit of research and sustainable commitment.
ZEISS has created an optical system for the EUV lithography machine, which is only available from ZEISS' strategic partner, ASML. The system is made up of mirrors that are held precisely in place in a vacuum. The system had to be completely redesigned because conventional lens systems and even air can absorb EUV light. "If a laser beam were deflected via one of these EUV mirrors and directed towards the Moon, it would be possible to hit a golf ball on the lunar surface," explained Lamprecht to the Chancellor, who personally examined an EUV mirror. The presentation illustrated how a microchip is exposed to EUV light, the milestones of miniaturization, and the impact of the technology on computing power, sustainability and environmental protection.
Dr. Karl Lamprecht part of main program at the Digital Summit
The two-day summit also included presentations, discussion forums and panels that various expert groups had developed over the year. Dr. Karl Lamprecht was involved in the program on the topic of "Innovative Digitisation of the Economy" with a presentation on approaches for greater energy efficiency in chips and IT infrastructure.
About the Digital Summit
The Digital Summit is the central platform for cooperation between politics, business, science and society in shaping digital change. It reflects digitalization in all its aspects and involves both providers and users, from Industry 4.0 to the cultural and creative industries. The summit is organized along ten platforms that address important fields of action in the course of digitalization and develop concrete projects. The aim is for digital change to be shaped and further developed together with IT manufacturers and users, the scientific community, social partners and social groups.