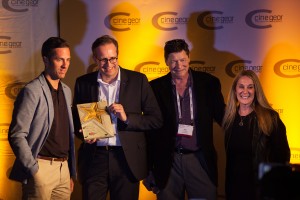 Zeiss lenses have been shaping the movie industry for over 80 years. The company was honored with the Technical Lifetime Achievement Award at Cine Gear Expo.
Zeiss was presented with the Technical Lifetime Achievement Award at Cine Gear Expo. Jörg Schmitz, head of consumer products at Zeiss personally accepted the award in Los Angeles, California (US).
Pushing the boundaries of technology
Zeiss first started developing lenses in 1890. Many well-known movies have been filmed using Zeiss lenses, including Lord of the Rings, Stanley Kubrick's The Shining and Shape of Water. In the 1970s, Zeiss developed the Zeiss Super Speed lens family, which was so powerful that it enabled camera crews to film in low light for the very first time.
The development of the ARRI/Zeiss Master Primes in 2005 allowed Zeiss to raise the bar in the movie industry. Schmitz says the lenses offer exceptional speed across the entire focal range, and, in fact, Zeiss Master Primes were the first lenses that featured no focus breathing, meaning the image section remains unchanged when focusing. Zeiss received the Technical Oscar for this achievement.
A pioneer that offers the latest technologies: full frame and Zeiss eXtended Data
What is more, Zeiss predicted the current trend towards large camera sensors back in 2009, when it introduced full-frame-capable cine lenses — and has continued to advance this segment ever since.
In 2017, Zeiss began incorporating the Zeiss eXtended Data metadata technology into its lenses. This greatly sped up the entire film production's workflow. When using visual effects, for example, with only a few clicks the lens properties can be removed so that the computer-generated effects imagery can be accurately applied to the captured imagery. The lens properties can then be reapplied and combined with the film material to create a realistic image.
The latest development: Zeiss Supreme Primes
The latest development is the Zeiss Supreme Primes lens family presented at this year's Cine Gear Expo: 13 fixed focal lengths between 15 and 200 millimeters, the majority with a maximum aperture of T 1.5. The Zeiss Supreme Primes, with their combination of high speed, low weight and full-frame capability, are designed for high-end film productions.