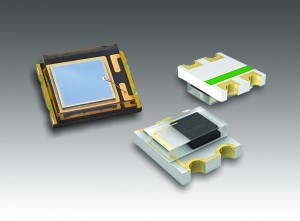 Advanced Photonix, a division of OSI Optoelectronics, designs and manufactures Silicon (Si) and Indium Gallium Arsenide (InGaAs) surface-mount technology (SMT) photodetectors for high-speed response applications. The family of Surface-Mount Devices (SMDs) are assembled in compact, water-clear P-I-N, APD, PSD, and 1206 packaging and are available in Cut Tape, Tape Box, Tape & Reel or custom reel quantities. The optical sensors/photodiodes are specially designed for automated SMT/SMD assembly and solder reflow mounts on printed circuit boards and ceramic substrates. They are used in security, medical, and communications imaging sensing applications, industrial controls, opto switches, opto counters, industrial sensing, light management, and handheld devices.
Advanced Photonix's silicon and InGaAs SMT detectors are offered in various wavelengths ranging from Ultraviolet (UV) to Near Infrared (300 nm to 1700 nm). The photodetectors range in varying active area sizes from 0.185 mm² up to 8.07 mm² to meet customers' specific needs. The company's SMT optical sensors also feature small footprints, low dark current and capacitance, and high sensitivity.
To learn more about the company's extensive family of SMT/SMD photodetectors, please go to the Digi-Key Electronics link here.