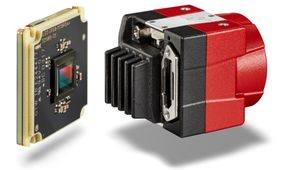 Allied Vision will be exhibiting at the 2019 Embedded Vision Summit in the Santa Clara Convention Center, Santa Clara, California (US) from May 21-22, 2019. Summit attendees can visit with Allied Vision at booth #412.
Alvium Camera Series: Next generation camera for industrial embedded vision
Industrial machine vision and embedded vision merge with Allied Vision's innovative camera platform, the Alvium Camera Series. Alvium is based on an innovative platform that delivers a full range of digital cameras capable of serving both industrial and embedded vision applications. System designers and engineers can meet their system space constraints with the choice of three Alvium configurations: bare board, open housing and closed housing. Furthermore, designers/integrators can choose from two interfaces, MIPI CSI-2 and USB3 Vision.
The nucleus of Alvium is the one-of-a-kind ALVIUM Technology. ALVIUM Technology is a proprietary application specific integrated circuit (ASIC) with integrated image signal processor (IPS) designed by Allied Vision. It is combined with a comprehensive image processing library (IPL) optimizing it for advanced digital imaging. ALVIUM Technology completes image correction and optimization processing in the camera, which frees CPU capacity on the host board for alternative processing tasks. ALVIUM Technology also provides intelligent power management by using power only for the image processing functions enabled. From the software prospective, ALVIUM Technology makes camera integration into systems easy. One driver is needed for each host platform to operate all Alvium camera models. Furthermore, Alvium cameras can be controlled via Video4Linux, GStreamer, Direct Register Access and GenICam. Alvium will support various embedded boards, starting with the NXP i.MX6/8 and NVIDIA Jetson platforms. In the future, support will extend to the i.MX8, i.MX8M and NVIDIA Jetson AGX Xavier platforms.
The design of the AVLIUM Technology ASIC enables it to support all common sensor interfaces, allowing for quick integration of current and future sensors. Sensor resolutions ranging from VGA to 21 Megapixels will be available among the Alvium camera series. The first two Alvium camera models to be made available are the 1500 Series and 1800 Series.
Allied Vision to present during the Embedded Vision Summit
Sebastian Günther, Host Systems Competence Center Lead at Allied Vision, will be giving a presentation during the Embedded Vision Summit. Titled "Accessing Advanced Image Processing Feature Sets with Alvium Cameras Using a V4L2/GenICam Hybrid Driver", Sebastian will examine the key challenges associated with camera drivers for embedded vision systems. Attendees can listen to this presentation on Tuesday, May 21, 2019 at 4:15 pm in Exhibit Hall ET 2. The presentation is part of the Enabling Technologies Summit Track.

2019 Embedded Vision Summit
Booth #412
May 20-23, 2019
Santa Clara Convention Center
Santa Clara, California, USA

Allied Vision Presentation
"Accessing Advanced Image Processing Feature Sets with Alvium Cameras Using a V4L2/GenICam Hybrid Driver"
Tuesday, May 21, 2019 – 4:15 pm PDT
Exhibit Hall ET 2