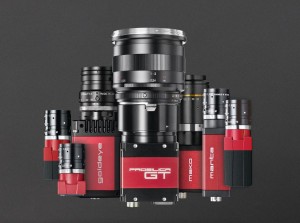 From October 4 - 6, 2022, Allied Vision will present its broad range of camera solutions for a variety of applications to visitors at the world's leading machine vision trade fair in Stuttgart at the TKH Vision booth in Hall 10, Booth 10.F30. A special highlight is the latest extension of the Alvium camera series: compact Alvium cameras with GigE Vision and 5GigE Vision interface.

Experience camera solutions live
Under the headline "Enjoy the variety", visitors to Allied Vision's booth 10.F30 can playfully experience a variety of possible applications for industrial cameras. In live demos and presentations, the machine vision expert will show a selection of its latest camera solutions
• for different spectral sensitivities from UV to XSWIR
• for different speeds and bandwidths
• for applications from embedded vision to scientific analysis
• from modular options to OEM solutions.

Focus on new products
The latest addition to the Alvium platform, the Alvium camera series with GigE Vision and 5GigE Vision Interfaces will be the focus of the product presentation. The Alvium G1 camera with GigE Vision interface comes in a future-proof package with a comprehensive feature set including a broad selection of the most popular sensors in machine vision. The Alvium G5 camera series with 5GigE Vision interface offers all the advantages of the GigE Vision standard while providing more bandwidth for applications, where resolution and frame rate are critical. With their 29x29mm sugar-cube housing, they allow easy upgrade of existing GigE installations. Next to USB3 Vision and MIPI CSI-2, users can choose between two speed levels of the GigE Vision interface.

Spectral sensitivity from UV to XSWIR
Allied Vision has also expanded the versatility of the Alvium platform in the spectral sensitivity range. Depending on requirements, customers can choose models that are sensitive in the ultraviolet or infrared spectrum in addition to cameras for the visible light range. Allied Vision's Alvium UV cameras are the smallest industrial grade ultraviolet imaging devices on the market ideally suitable to build extremely compact OEM systems for embedded and machine vision applications, such as Battery inspection, UV microscopy, forensic inspection. Furthermore, Sony's SenSWIR IMX991 and IMX 990 sensors, which have been available in Alvium cameras with USB3 Vision and MIPI CSI-2 interfaces, are now also available in Alvium VSWIR cameras using GigE Vision, and 5GigE Vision interfaces.
The popular Goldeye SWIR camera series is also being expanded to include VGA and QVGA resolution models with extended SWIR sensitivity up to 2.2µm.
The Allied Vision team will be happy to provide information on all new Alvium camera models and the entire product portfolio at the booth.

TKH Vision - Joint Power for your vision solution
Together with other TKH Technology companies, the TKH Vision Group will again be presenting a wide range of products and technologies for various vision applications.

Brief information
• VISION 2022
04.-06.10.2022
Stuttgart Trade Fair
• TKH Vision booth
Hall 10, Booth 10.F30
• Industrial VISION days 2022
Allied Vision Presentation
"Next level of multi-camera performance for GigE Vision"
Date: Wednesday, 05.10.2022, 15:20 - 15:40