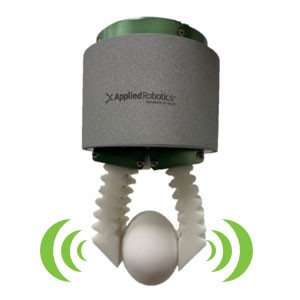 Applied Robotics' Flexible Smart Gripper (FSG) now allows for intelligent handling of delicate objects of varying shapes and sizes.
The all new Flexible Smart Gripper is a fully electrically actuated gripper with flexible, soft bodied fingers for handling objects of varying size, shape, and weight. The FSG comes in two-finger (FSG-2) and four-finger (FSG-4) configurations, ideal for Food and Retail Order Fulfillment, and are well-suited for collaborative robotic applications.
With a simple user interface that can be accessed with any Wi-Fi enabled device, the user can easily program open/close finger positions as well as force control thresholds for precise and dependable handling of delicate objects. The FSG's patented, FDA compliant silicone fingers, provide assured grasping of objects with the ability to rotate and conform in the actuating direction, while remaining rigid in the other degrees of freedom.
Applied Robotics, Inc., headquartered in Glenville, NY, is an ISO-9001 registered company serving the world's automation market. Founded in 1983, Applied Robotics designs and manufactures end effectors and connectivity solutions intended to solve complex automation problems and improve efficiencies. Serving a wide spectrum of customers and industries the company's dependable wrist-down solutions reduce downtime, improve product quality, and increase product throughput. These solutions can be found in manufacturing, welding, assembly, material removal and material handling applications throughout the United States, Canada, Pacific Rim, Europe, Mexico, South America and Australia. More information can be found on the company's website.
Applied Robotics will be exhibiting at Automomate.