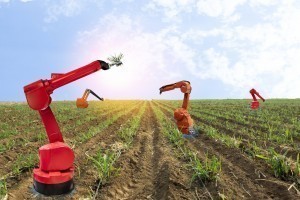 Reportlinker.com announces the release of a report on the "Agriculture Autonomous Robots Market".
Market Lifecycle Stage
The agriculture autonomous robots market is still in an evolving phase. Increased research and development activities are underway to develop agriculture autonomous robotic technologies and products, which are expected to increase due to the increased demand for food and the need for automation in the agriculture sector.
Increasing investment in smart agriculture is one of the major opportunities in the global agriculture autonomous robots market.Moreover, agriculture autonomous robot technologies also help in reducing crop losses due to undetected pest infestation and diseases.
The agriculture autonomous robots also facilitate the safe and quality harvesting and picking of crops including fruits and vegetables.
Impact
• With an increased worldwide focus on achieving the global food demand, the shift to digital, smart, and data-driven products in the agriculture sectors brings significant sales and financing opportunities. The shift is more prominent in automation and robotics segments in regions such as North America and Europe.
• Furthermore, agriculture autonomous robots have a moderate to high impact on crop protection systems to reduce crop losses due to crop diseases and pest infestations.
Impact of COVID-19
In the wake of the pandemic, labor shortages have caused disruptions in the agricultural processes, thereby leading every country to re-emphasize food security and increase domestic food production.With an aim to solve labor shortages, the increased application of automated technologies such as sensors, data analytics, robotics, and others have been introduced into the production system.
Each country continued to promote policies on increasing the adoption of agriculture autonomous robots techniques, which have proved to be the appropriate solution.
Market Segmentation:
Segmentation 1: by Application
• Crop Monitoring
• Inventory Management
• Harvesting and Picking
• Dairy Farm Management
• Others
Dairy farm management is one of the major applications of agriculture autonomous robots owing to the high adoption of milking robots in Europe and North America.
Segmentation 2: by Product
• Weeding Robots
• Crop Harvesting Robots
• Milking Robots
• Others
The milking robots segment is expected to grow at a CAGR of 20.34% during the forecast period 2022-2027 due to the rising use of automation in dairy farms. These robots increase the efficiency of farm operations by reducing the overall cost. Hence, farmers are inclining toward adopting milking robots and reducing dependence on manual labor.
Demand – Drivers and Limitations
Following are the demand drivers for the agriculture autonomous robots market:
• Growing Focus on Environmental Sustainability
• Aging Workforce Leading to Skill Shortage
• Escalating Adoption of Precision Agriculture Technologies
The market is expected to face some limitations too due to the following challenges:
• High Initial Investment and Cost
• Less Adoption among Small-Scale Farmers