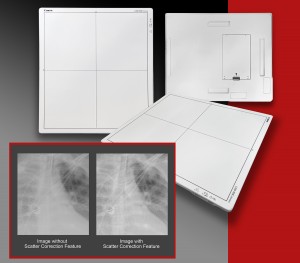 Canon Medical Components USA (CMCU) - Digital Radiography (DR), global leaders in advanced flat panel detectors (FPDs), X-ray components, X-ray tubes, and innovative video camera technologies, introduces the CXDI-Pro Wireless Digital Radiography Series of flat panel detector systems. Featuring superior digital imaging, the highly reliable, cost-effective Canon CXDI-Pro wireless systems are specially designed to support the stringent demands of medical imaging departments and general radiography applications.
The ergonomically-sculpted flat panel design is lightweight, robust, and very comfortable for easy handling. The sleek, smooth surface, without screws, makes it extremely easy to clean. Other features include automatic exposure detection (AED) functionality, IP55 dust and waterproof protection, over 10 hours of battery life, and a 4-second quick-ready (dependent on acquisition mode), making the detectors ready for use whenever needed.
The FPD systems operate smoothly on Windows ®10 using Canon's proprietary CXDI Control Software NE which optimizes workflow while providing enhanced imaging with scatter correction for non-grid exams.
The wireless flat panel detectors are available in three sizes: 14" x 17" (6.4 lbs. with battery); 11" x 14" (4.6 lbs. with battery); and 17" x 17" (7.7 lbs.with battery).
Celebrating its 25 th anniversary since pioneering the world's first DR detector, CMCU's Digital Radiography will showcase the innovative CXDI-Pro Wireless Series at two upcoming trade shows. Please stop by to learn more at: American Society of Radiologic Technologists (ASRT), June 22 - 23, 2023, Nugget Casino Resort, Reno, Nevada, Booth #25; and American Healthcare Radiology Administrators (AHRA) Annual Meeting, July 10 -12, 2023, Indiana Convention Center, Indianapolis, Indiana, Booth #1220.