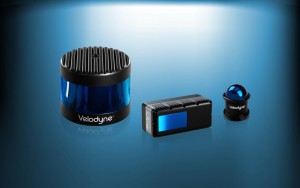 Velodyne Lidar, Inc. introduced trailblazing technology that will serve as the cornerstone of future advanced driving safety systems. The new products strengthen Velodyne's position as the industry leader in providing the smartest, most powerful lidar solutions for vehicle autonomy and driver assistance.
Velodyne unveiled the VelaDome, a compact embeddable lidar that provides an ultra-wide 180° x 180° image for near-object avoidance. Velodyne also introduced Vella™, breakthrough software that establishes its directional view Velarray™ lidar sensor as an integral component for advanced driver assistance systems (ADAS).
The Lidar Assistant (Vella): Software that revolutionizes ADAS performance
Velodyne presented a groundbreaking advanced driver assistance solution that builds upon its directional view Velarray sensor. Vastly superior to existing approaches that utilize camera+radar, this solution will revolutionize advanced driver assistance functionalities currently on the market, such as Lane Keeping Assist (LKA), Automatic Emergency Braking (AEB), and Adaptive Cruise Control (ACC).
VelaDome: Close-range precision
The VelaDome's game-changing hemispherical field of view and high-density image present a quantum leap in pedestrian, cyclist, and blind-spot detection. The compact sensor is ideal for a variety of mounting and styling options. Powered by Velodyne's patented Micro Lidar Array (MLA) technology, the VelaDome is optimized for manufacturability and designed to meet automotive-grade standards. Like all Velodyne sensors, VelaDome has world-class technical support available across North America, Europe, and Asia.