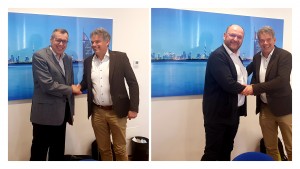 Christian Bosshard, Vice President, Head CSEM Center Muttenz and Samuel Bucourt, CEO of Imagine Optic will be joining the distinguished Board of Directors of European Photonics Industry Consortium (EPIC), replacing Kurt Weingarten, Managing Partner, Tarkas Ventures and Bruno Mourey, Vice President, CEA-Leti, as announced at the EPIC Annual General Meeting 2019 in Glasgow, Scotland. Christian and Samuel will bring together their experience and expertise of advanced processes and entrepreneurship respectively in the field of photonics.
Dr. Christian Bosshard is the Vice President at CSEM, a leading non-profit swiss research and technology organization. Christian is managing developments in the fields of MicroNano Optics & Photonics, Sensing & Security, Large Area & Flexible Systems and the associated integration technologies for applications including lighting, space and aeronautics, pharma and bio, health and medical. Christian received his degree in Physics (1986) and his doctorate (1991, Silver medal award) from ETH Zurich. After a postdoctoral stay at the Center for Research and Education in Optics and Lasers (CREOL) in Orlando, Florida, he was Senior Scientist and Lecturer ('venia legendi') at ETH before joining CSEM in 2001. Christian is a Fellow of the Optical Society of America (OSA), managing director of the Swissphotonics technology network and member of the Board of Stakeholders of Photonics21.
Samuel Bucourt founded Imagine Optic in 1996, and Imagine Eyes in 2003. These companies are focused on offering instrumentation based on wavefront sensing and adaptive optics for academics, industrial and medical purpose. Samuel graduated from Institut d'Optique Graduate School and HEC Paris. He started his career by developing a 3D probe based on conoscopi holography (Le Conoscope). He is the co-author of few patents and scientific articles as well as an expert in optical metrology and adaptive optics. Along with his experience of 25 years in photonic industry, Samuel also serves as a VP of Photonics France (the National French Photonics trade association). As an entrepreneur, Samuel brings to the association his expertise in corporate management and his spirit of growing a Startup company.
2019 EPIC BOARD OF DIRECTORS
Benno Oderkerk, CEO, Avantes (The Netherlands)
Christian Bosshard, Vice President, CSEM (Switzerland)
Jan Meise, CEO, AMS Technologies (Germany)
Martin Schell, Director, Fraunhofer HHI (Germany)
Maurizio Gattiglio, Vice President, Prima Electro, and Chairman & CEO, Convergent Photonics (Italy)
Petteri Uusimaa, President & CEO, Modulight (Finland)
Samuel Bucourt, CEO, Imagine Optics (France)
Photos: Benno Oderkerk, President of EPIC welcoming Christian Bosshard (left) and Samuel Bucourt (right) to the EPIC Board at EPIC Board Meeting in Torino in February 2019.