Cordon Electronics is an Italian firm that specializes in the design, manufacture and integration of photonics and electronic products. Its Microtech Business Unit, develops and manufactures microwave modules and transceivers up to 80 GHz geared to the telecommunications and defense markets, and is now expanding its service to other photonic markets such as medical and aerospace. In this interview, Joe Pozo, EPIC's CTO, talks to Alessandro Vannucchi, Director of Innovation & Engineering at Cordon Electronics.
Career development
After graduating with an MSc in Electronic Engineering from the Polytechnic Institute of Milan in 1996, Alessandro went to the US, where he worked as a modem/IF engineer for P-Com, a Silicon Valley based company specializing in the design and manufacture of microwave radio links.
Three years later, he moved back to Italy to work as an engineering manager for Fresnel Wireless Systems, P-Com's European spin-off. Then, in 2003, he joined Andrew Corporation, a cable manufacturer and provider of broadband and wireless infrastructure solutions. He worked initially as a digital MW radio/system engineer, rising to Product Line Manager Europe for integrated products, and in 2010, following the acquisition of Andrew Corporation by CommScope, he became CommScope's Director of Engineering.
As Alessandro recalls, these were tough years. He was responsible for managing teams in Italy and Bordeaux, France, and although they had a number of projects with several customers, the market didn't respond well to CommScope's technical solutions, and in 2013, the Bordeaux operation was shut down. This experience taught him two valuable lessons. First, to be successful, companies need to stay alert, to be flexible and continually innovate so they can respond quickly to market changes. Secondly, when times are hard and people have to be laid off, it's essential to remain patient and empathetic with employees and not lose their respect.
Cordon Electronics
In 2013, Alessandro was promoted to CommScope's Director of Product Line Management, a position he held until 2019, when he was appointed Director Innovation & Engineering at Cordon Electronics Italia.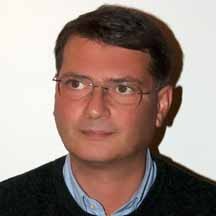 Cordon Electronics Italia is a service provider for design, engineering, manufacturing, supply chain and repair services, of microwave components, modules and sub-systems for defense, telco and industrial markets. Most of the company's revenue derives from low- and mid-volume contract manufacturing production for third parties. Products include modules such as digital controller attenuators amplifiers, limiters, mixers, switches and transceivers, and also the integration and testing of more complex MW devices like switching matrix and radio over fiber data links.
While Cordon provides some applications for telecom & energy, e.g., E Band SIP (80 GHz) TX-RX and Point to point Radio D Band SIP proto (150 GHz) TX – RX, their main market is defence. Military applications range from counter measure subsystems and RF components for missile system ground station, to Tx - RX for radar applications and radio over fiber datalinks.
Although this was Alessandro's first real contact with photonics, paradoxically, he was hired not to develop the photonics business but to help the company transition back from photonics to microwave. As he explains, by 2019, it had become apparent that the defense market was still not ready for photonics, and consequently, the company decided to focus more on microwave but also retain some business in photonics because they thought it was the future.
Challenges
Packaging & integration: Cordon has various collaborations with universities and start-ups and are involved in small scale microwave chip & wire packaging for European consortiums, which from a business perspective is not sustainable. While Alessandro wants Cordon to stay in packaging, it will be necessary to change the team's approach and develop a more sustainable, large-scale and professional strategy, for example, by reducing the number of projects and becoming more efficient and more responsive to customers' needs.
Reliability: In general, there's always a trade-off between performance and reliability, but the problem with the defence market is that unlike telecom, defence applications have to be highly reliable and guaranteed to function in harsh environments for 20-25 years, which can create some tricky technological challenges.
Small volumes: Although they have automatic bonding machines, it takes 1-2 weeks to develop the programming, which is only cost effective for volumes over 100 pieces. As a result, manufacturing the smaller volumes, typically required by their customers, often involves a relatively large amount of manual work that puts up costs.
The future
Microwave photonics: Alessandro sees a trend away from transmitting modulated analogue signals over fiber to a completely digital future. As he explains, the problem of transmitting analogue signals over fiber is that expensive and bulky modulators are required to guarantee linearity and signals must be in processed anyway at the end of the fibre. A much better solution is to transmit digital signals and then translate them into analogue signals allowing smaller, less power consuming and more efficient implementations. In this respect, Cordon is working to package a tiny 1x1 inch, 110 Gbps InP modulator that is the perfect building block for future transmissions over fiber.
Innovation and proprietary products: Most of Cordon's revenues come from manufacturing third-party designs, but in the next 5-10 years, Alessandro would like to see a much higher percentage of internally designed products, up to 50% of them. To achieve this, the company will need to create a small team dedicated to innovation for future products and be more open to synergies between internal teams and synergies with universities and external start-ups.
Regarding what these new products should be, it's not the case of needing to reinvent the wheel as the technology is already here. Examples include lidar solutions and using fiber and photonic systems to transmit and receive different signals, for example, for massive MIMOs.
Although photonics may be the future, the defense market, like most other markets, is not yet ready for transitioning to full photonic systems. In any event, high volume markets like automotive, would be out of the question as Cordon could not supply the volumes required. In the case of defense, although volumes are smaller, the problem is that the military tend to be very conservative and it has proved extremely difficult to convince many customers that photonics systems are mature and reliable enough to be placed on an aircraft or warship.
Despite these challenges, Alessandro believes that Cordon is well placed to design, develop and manufacture its own innovative products. Firstly, as a small company, Cordon has the investment capability that very small companies lack and is agile enough to respond quickly to new market demands. Secondly, Cordon has a strong engineering team comprising around 20 engineers who cover all the main areas of testing, processing, R&D and design. The team's strength lies not so much in its numbers but more in the high level of interaction that goes on in the design phase, and the focus on solving problems before they are found in manufacturing.
If you started again, what would you do differently?
"Probably not much because as I like to say: I am what I am because I did what I did. I mean, although I wouldn't make the same mistakes, I'd inevitably make others; the important thing is to learn from your mistakes and not be overwhelmed by them".
"Going back to my university years, I'd maybe do something more in basic research. On the other hand, I'm more of an operations type of person so I like to take a prototype, design a manufacturing process and see it working".
What's your advice for the next generation of corporate engineering managers?
"I always say that we should use more the Occam's razor, cut with any old, complex and time wasting kind of business or technology approach, be more linear, transparent and take more risks. If you think your technology is disruptive, then there is probably no way to know where this is going to be positioned in the market because there is still no market for it yet. In this case the only thing to do is being patient and take your (calculated) risks. But the most important thing, whatever you are doing, is to forget about technology for a moment and be aware that every day, in every situation you are interacting with people. Ultimately, what matters most is not whether you're a CTO or Director of Innovation but that the people you work with respect you and what you're trying to achieve. If you can engender this type of respect, you'll be able to create a positive working environment where people are reasonably happy and well-motivated".
Written by Jose Pozo, Chief Technology Officer at EPIC (European Photonics Industry Consortium).