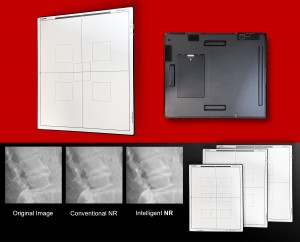 Canon Medical Components USA (CMCU) - Digital Radiography (DR) (), global leaders in advanced flat panel detectors (FPDs), X-ray components, X-ray tubes, and innovative video camera technologies, announces the latest generation of flat panel detector systems, the CXDI-Elite Wireless Digital Radiography Series. The Elite series features a new, high-performance scintillator that produces a higher image quality than ever before.
The ultra-lightweight CXDI-Elite FPDs are available in three sizes: 14" x 17" (5.1 lbs. with battery); 11" x 14" (4.0 lbs. with battery); and 17" x 17" (6.0 lbs. with battery). The compact, ergonomic design makes the CXDI-Elite digital radiography detector ideal for mobile applications and general radiography tasks. The Elite FPDs are easy to manage with smoothly sculpted, built-in handgrips and rounded corners for added comfort. They are IP57-rated for protection against dust and liquid intrusion. With long battery life and automatic exposure detection (AED), the Elite series operates on Windows 10 with CXDI Control Software NE to optimize workflow. For additional functionality, the software includes "pinch to zoom" touchscreen operation.
The company's proprietary Intelligent NR image processing product is available for use with the new FPD Elite series, providing exceptional noise reduction and superior X-ray images. The new AI image processing uses a pre-determined model that has been trained by deep learning on noise characteristics in radiographic images. The Intelligent NR deep learning capability delivers outstanding image quality when compared to original X-ray images or conventional NR images (as shown in press photo comparison). The next-gen CXDI-Elite series is also available with built-in automatic exposure control (AEC) assistance with 5 or 9 regions of interest, depending on the model selected.
The company pioneered the world's first DR detector in 1998. To celebrate 25 years of innovations, CMCU's Digital Radiography will showcase the innovative CXDI-Elite Wireless Digital Radiography Series at the American Healthcare Radiology Administrators (AHRA) Annual Meeting, July 10 -12, 2023, Indiana Convention Center, Indianapolis, Indiana, in Booth #1220. Canon's affordable and previously introduced CXDI-Pro Wireless DR Series will also be available for demonstration.