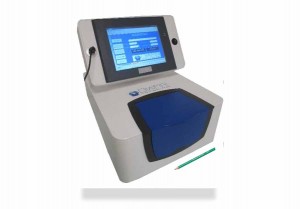 In this interview, Jose Pozo, EPIC's CTO, talks to Hugues Tariel, CEO and co-founder of DIAFIR, a medtech company specialising in the development of innovative medical devices for the detection and monitoring of chronic metabolic diseases.
Early career
After graduating in 1990 with an engineering degree from Arts et Métiers ParisTech (ENSAM), Hugues worked on the hydraulics for fuelling systems for aeronautic and automotive applications. In 1995, he began an MBA in B2B at the HEC Paris, which involved an exchange programme with Keio university (Japan), where he worked on plastic material science in the bottling industry.
On returning to France in 1998, Hugues joined Saint-Gobain, where he held various senior management positions in sales, operations, and finance, working in speciality glass for radiation shielding and fiber optics, for medical nuclear and industrial applications.
Then, in 2005, for family reasons, he and his wife decided to move to Rennes, where Hugues became General Manager of Umicore IR Glass, a small start-up acquired by Umicore to develop products and processes involving infrared glass.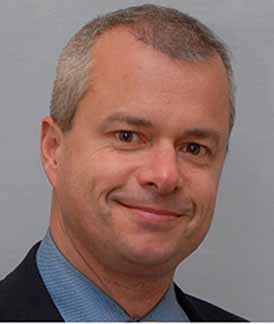 The job involved collaboration with Rennes University on various IR glass research projects, which gave Hugues the opportunity to provide advice from the experience he's gained at Saint-Gobain. Over the next 5 years, Hugues became increasingly interested in infrared research, particularly in the market opportunities for fiber optics for medical devices.
DIAFIR
Although the main aim of his job was to integrate the start-up into Umicore, by 2010, Hugues had realized that he was more attracted by entrepreneurship than working for the larger company. Accordingly, he resigned from Umicore and began to look for a way of creating patents based on the proof of concept developed by Rennes university for making metabolic measurement with a bare fiber optic, with a view to starting his own company. For the first year, he worked from home and in 2011, after having secured funding and an office, he co-founded DIAFIR as CEO.
The aim of the company would be to develop diagnostic machines based on the mid infrared light absorption spectrum to rapidly determine the metabolic structure of biological samples, thereby providing non-invasive diagnosis of a range of diseases within minutes. The first target disease was non-alcoholic steatohepatitis (NASH), a liver inflammation caused by a build-up of fat, for which a proof of concept had already been developed. The second disease was acute septic arthritis, an inflammation of the synovial membrane of the joint resulting from an infection, which can develop very rapidly and lead to irreversible destruction of the joint tissues.
Company development
The most immediate task was to develop a prototype machine, which was eventually ready by 2015. The first prototype looked a bit like a cash register and was too big, too heavy, and too sensitive to the environment. The second attempt was more ergonomic and much more like a medical device, in blue and white with a bigger screen. The next stage was to demonstrate the machine directly to doctors, which involved attending a large number of medical congresses and for Hugues, their first public presentations in 2015/16 were real landmarks. They chose the strategy of directly approaching doctors rather than system integrators because although infrared as a diagnostic tool had been around for several years, the real challenge for selling their machines was to convince the medical profession of the benefits of the technology.
Technology
DIAFIR has developed their proprietary SPID platform comprising three proprietary components: 1) a mid-infrared light biosensor, 2) a dedicated spectroscopic device and 3) machine learning algorithms allowing diagnosis within minutes.
The key advantages of the SPID platform are high sensitivity and specificity; and non-invasive diagnosis from a simple drop of serum, thereby decreasing operating risk and saving hospitalization costs. The platform also provides safe, label-free, non-destructive analysis requiring no special training and minimal sample preparation. Additionally, the biosensors are single use and disposable, which make them cheap and avoids cleaning and contamination issues.
The SPID platform has been adapted to provide two types of diagnostic tests: NASHMIR a non-invasive test from a simple drop of serum, based on the metabolic signature of Non-Alcoholic Steato-Hepatitis (NASH), the most common chronic liver disorder in Western countries; and SYNOFAST for the detection of septic arthritis, an inflammation of the synovial membrane of the joint resulting from an infection, which can lead to irreversible destruction of the joint tissues and even mortality.
Challenges
Patient access: As Hugues points out, developing the platform and specific diagnostic tests has been a learning process, crucially based on patient samples. But for someone from optics, getting access to patients is very problematic. You need authorisation and medical personnel to collect blood samples and working in the emergency environment of a hospital frequently means that samples are not recorded properly or not collected at all.
For this reason, it's essential to have doctors who believe in the technology as partners. In this way, they will ensure access to patients and then communicate the proof of concept and efficacy of the diagnosis to their colleagues. Without a medical partner on the inside, it's very time consuming and expensive to make progress, as DIAFIR have found in trying to introduce a new test for a stomach infection, which, for the time being has been put on the back burner.
Regulation: National approval can be tough especially in France, and although obtaining regulatory approvals is a long process, it's manageable and more predictable than getting access to patient samples. SYNOFAST has already received regulatory approval for septic arthritis and was launched in 2021. The NASHMIR test for liver diseases is currently undergoing clinical studies, with the aim of obtaining regulatory approval for market launch for NASH in 2022.
The future
When he started out, Hugues never imagined he'd become so involved in patient care, but he's now proud of the fact that DIAFIR's minimally invasive technology is making a real contribution to avoiding unnecessary hospitalization, reducing costs for health authorities and saving lives through early detection.
For Hugues, the falling cost of spectroscopic devices will be a key factor in DIAFIR's future success. As he points out, the decline in the cost of infrared cameras over the last 10 years has brought prices down from €50,000 to €5,000. A similar fall in spectroscopy will enable DIAFIR to considerably reduce the cost of their machines from around €30,000 and make them available to general practitioners and pharmacists in the community, and eventually to patients in their own homes.
By working with the right medical partners, DIAFIR aims to sell its next generation of cheaper machines worldwide and for its technology to become the standard of care in the way people are routinely diagnosed for NASH, septic arthritis, and other diseases.
If you started again, what would you do differently?
"It was a great advantage having a sizeable experience before starting DIAFIR. In fact, if I started again, maybe I'd start a little later and make more proof of concepts inside a larger company or university, because once you start your own company, you start burning cash and the clock starts ticking very fast."
What are your words of wisdom for the next generation of entrepreneurs?
"First, time is always of the essence: everything takes longer than you expect, and you'll need to be patient. Although business plans need to be conservative, they're frequently not conservative enough, and it's important to have a fallback scenario on how you're going to finance the business and pay your people when it takes longer than expected to achieve a particular goal."
"Secondly, don't focus too much on a single market; always look for other opportunities. In our case, for example, while the medical sector is our main market, we've also developed applications for veterinarians and the food industry, which has provided revenue to help us develop the medical side."
Written by Jose Pozo, Director of Technology and Innovation at EPIC (European Photonics Industry Consortium).