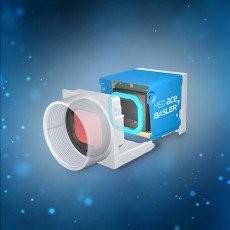 Basler is adding the new Dust Protection MED Feature Set to the first four models of its Basler MED ace camera series; this new Feature Set is designed specifically for the Medical & Life Sciences field. All USB 3.0 color cameras with 2.3 MP and 5.1 MP will offer the Feature Set in the future, and are now in series production. With Dust Protection, Basler combines four components that meet the special cleanliness standards often required of cameras by Medical & Life Sciences applications: Sealing of the sensor room, cleanroom production, strict inspection for dust and other particles as well as high robustness during daily use.
The Basler MED Feature Sets are part of the Basler MED ace cameras. The Dust Protection Feature Set supplements the series of existing Feature Sets, which includes Easy Compliance, Brilliant Image, Perfect Color, Low Light Imaging, Industrial Excellence and High Speed. The sophisticated requirements which Basler configured specifically for the Medical & Life Sciences areas combine hardware, firmware and software functions. Their great benefit lies in helping customers reduce their development effort. They enable images with top quality in minimal time, while also offering full flexibility for individual requirements.
The color and monochrome cameras in the Basler MED ace series stand out not only with their MED Feature Sets but also with the latest CMOS sensors in the Pregius line from Sony, or the PYTHON line from ON Semiconductor. They achieve up to 164 frames per second and have a resolution of up to 20 MP. The certification of the quality management system under ISO 13485:2016 is particularly valuable for clients using the cameras in Medical & Life Sciences applications. Basler thus offers additional and higher quality standards for the production, distribution and service of digital cameras.
General information about the Medical & Life Sciences portfolio of Basler AG is available at www.baslerweb.com/medical .