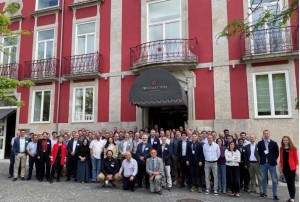 EPIC organized a meeting focused on fiber sensors in collaboration with HBK FiberSensing on 19-20 April 2023. The event aimed to discuss the latest advancements in fiber sensing solutions and to foster collaboration and knowledge-sharing among industry professionals. Attendees from various industries, such as aerospace, oil and gas, infrastructure, energy, and medical, participated in the event.
The meeting saw intense debates on the challenges and opportunities in the fiber sensing market and the new developments of Fiber Bragg Gratings, distributed sensors and interrogators and other monitoring options. One of the main topics of discussion was the industry's demand for low-cost solutions, which can compromise reliability and accuracy. The participants agreed on the need to educate customers on the real value of fiber sensing solutions. The integration of solutions was also discussed as an option to reduce weight and size and thus, cost. Another key point of discussion was the use of AI for predictive information, although it is still not feasible in applications where the amount of data obtained is low. Additionally, there is a need for solutions that can withstand higher temperatures (more than 900° C), with metallic and ceramic coatings being the trend to use fibers in such harsh environments.
The meeting featured several informative presentations from experts in academia and industry. Werner Lienhart from Graz University made a review of the different projects performed by their group related to structural health monitoring of bridges and roads. Paolo Petagna from CERN presented the challenges of measuring humidity and radiation in an accelerator environment and requested the industry to develop long period Fiber Bragg Gratings as a possible solution, while Evangelos Diatzikis from Siemens Energy provided an overview of the challenges and opportunities of fiber sensing in harsh environments such as big generators or gas turbine compressors.
Rita Lima from HBK FiberSensing focused on a project to develop a pantograph monitoring solution, while Carlos Oliveira from FiberSail described the different fiber optics shape sensing solutions for the wind industry and the particular requirements of monitoring the blades of windmills. Overall, the conference showcased the latest advancements in sensing technologies and their potential to revolutionize various industries.
The meeting concluded with a consensus that fiber sensing is a well-known technology with many companies developing solutions for various applications.
The medical market is growing rapidly and taking advantage of the new integrated solutions, although the highest sales are still related to defense and security. Finding niche markets could be a challenge for manufacturers in the near future. Overall, the meeting provided valuable insights into the state of the art of fiber sensors and opened up new possibilities for collaboration and innovation in the industry. For more information, please visit the event's webpage with the full speakers' list and their presentations.
To view the entire album, please click here.