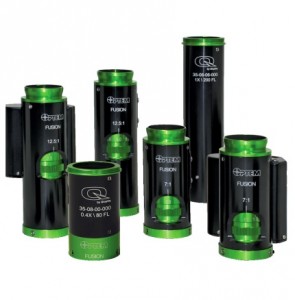 Excelitas Technologies Corp., a leading industrial technology manufacturer focused on delivering innovative, market-driven end-to-end photonic solutions, will showcase its latest applied microscopy and imaging optics innovations at VISION 2021, the world's leading trade fair for machine vision.
Expert staff will be available in-person at the Excelitas exhibit, located at Hall 10, Booth 10G44, to discuss the company's featured technology, which includes:
Optem FUSION Micro-Imaging Lens System: Designed to meet the evolving needs of today's micro-imaging applications in OEM systems, the Optem FUSION Lens System combines a standardized mechanical interface with bi-directional infinity optics to deliver unmatched interchangeability, performance versatility and functional flexibility in machine vision, automated optical inspection and non-contact metrology. Available in manual or motorized 7:1 and 12:1 zoom and economical fixed magnification, the precision micro-imaging lens system features a modular design to enable form, function and performance modification.
mag.x 125 Widefield Microscope System: Representing a new class of optical systems, mag.x 125 enables microscope-like resolution with wide fields-of-view, supporting modern high-resolution sensors up to 57 mm diameter. The system is fully modular and ideally suited for submicron-imaging in inspection and measurement applications. The modular approach enables adaptation of the system to many applications, with a fully featured system that includes an exceptionally uniform coaxial illumination and high-precision through-the-lens autofocus.
LINOS d.fine HR 2.4/128 Lens: The d.fine HR 2.4/128 3.33X high-resolution inspection lens is optimized for a magnification factor of 3.33X, achieving object resolution of up to 300 lp/mm across image circle diameters as large as 82 mm. With the addition of modular accessories, the d.fine HR 2.4/128 enables dual-support for both 12k/16k line sensors and large format area sensors, providing maximum versatility for handling countless imaging tasks. Featuring an aperture of 2.4 combined with an extremely low distortion of 0.1%, the d.fine HR 2.4/128 is the ideal choice for the most demanding high-throughput imaging applications.
LINOS Inspec.x High-Resolution Lenses: Inspec.x lenses are available in a variety of configurations to meet specific resolution, focal length, wavelength and camera requirements for high-performance line-scan and area-scan imaging applications.
LINOS MeVis C-Mount Lenses: Developed for use with the highest resolution sensors available on the market, MeVis-C Lenses combine exceptional resolution with low distortion, minimal light fall off and excellent chromatic correction across 450 nm - 900 nm wavebands. Mevis-C lenses can resolve up to 200 lp/mm all the way to the extreme corners of a 1" sensor.
LINOS Rodagon Scan Lenses: Rodagon scan lenses offer a variety of models that combine high-performance optics with robust mechanics to deliver industrial-grade performance and versatility for large format cameras. Options feature a wide range of focal lengths and F-numbers across several specially designed Rodagon lens series.
VISION takes place October 5 – October 7, 2021 in Messe Stuttgart, Stuttgart, Germany, Excelitas Exhibit: Hall 10, Booth 10G44.