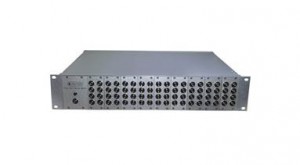 A range of fiber optic switch configurations are available from Laser Components: Multicasting, non-blocking, ultra-low latency and matrix.
Multicast switches (MCS) are wavelength insensitive and transmission speed independent optical switches that can connect any number of optical inputs to any outputs in a fully non-blocking and conflict free configuration. They use a built-in array of N PLC power splitters interconnected to an array of M high reliability optical switches to form an NxM multicast switch with M typically 16. The addition of VOAs along with tap monitors is available.
A special range of all optical routers achieve ultra-low latency superior to electronic routers <1.8ns. The switches multicast incoming optical signals and dynamically re-direct them into multiple output ports. They include a built-in signal booster to maintain the signal level even with large quantity splits. The matrix 48×48 optical fiber switch can be used to manage and monitor large optical networks intelligently and remotely, establishing optical signal paths in milliseconds. The switch system is supported by a robust software and control algorithms making the management of live traffic resilient. Their capabilities enable the dynamic selection and distribution of optical signals for analysis and storage.
Fiber optic switches are bit rate independent, supporting all data rates. They are ideally suited to both monitoring and reconfiguration applications - real time analysis, no traffic disruption, select, duplicate and distribute. Applications also include optical signal routing, network protection and wavelength management.