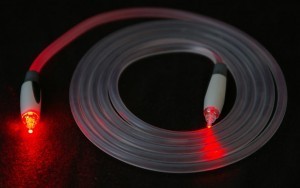 Verified Market Research recently published a report, "Fiber Optics Market" By Fiber Type (Glass and Plastic), By Cable Type (Single-Mode and Multi-Mode), By Application (Telecom, Oil and Gas, Military and Aerospace, BFSI, Medical), and By Geography. According to Verified Market Research, the Global Fiber Optics Market size was valued at USD 4.54 Billion in 2020 and is projected to reach USD 9.53 Billion by 2028, growing at a CAGR of 9.9% from 2021 to 2028.
With digital transformation on a rise, demand for Fiber Optics technology is witnessing massive growth. Technological advancement has led to the enhancement in the field of communication networking, which has further boosted the Fiber Optics Market. The rise in a number of internet connectivity in both developed and developing regions has further created a demand for Fiber Optics technology. According to the International Telecommunication Union (ITU), in 2019, over 51% of people were using the internet at a global level. It further states that the global penetration rate increased from nearly 17 per cent in 2005 to over 53 per cent in 2019. Thus, with the rise in the number of internet users, there is an increased demand for data transfer, creating demand for Fiber Optics.
The growing demand for FTTx technology is also an emerging high growth prospect for the Fiber Optics Market. FTTx is any broadband network architecture that uses fiber optics as the optical medium to transmit information in a local loop for last-mile telecommunications. With the development of fibre optic networks, service providers have been able to optimise FTTx — fiber-to-the-X, in which X can refer to various subscriber locations, such as homes (H, as in FTTH) and buildings (B, as in FTTB) — with the most effective, cost-effective connectivity and bandwidth capabilities. With the rise in OTT (Over-the-Top) culture, demand for video technology, which has the highest bandwidth consumption has increased.
Key developments
In June 2021, Corning introduced Corning SMF-28 Contour optical fiber, to assist telecommunications operators in dealing with the ever-increasing number of connected devices, the deployment of 5G networks, and advances in cloud computing.
In April 2021, Corning announced plans to build an optical fiber manufacturing facility in Mszczonów, Poland. The site is expected to be one of the largest optical fiber manufacturers in the EU and is set to open in 2022, to meet the growing demand for optical fiber.
Key players
The major players in the market are Corning Incorporated, Prysmian Group, Sterlite Technologies Limited, AFL Global, Finisar, Sumitomo Electric Industries, Ltd, LS Cable & System, Leoni AG, Furukawa Electric Co. Ltd., General Cable Corporation, Optical Cable Corporation.