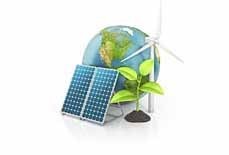 COP26 concluded last week with countries coming together to finalize the Paris Agreement. While the promises were not as strong as anticipated, one major achievement is that the Glasgow Climate Pact reduces coal production globally. A further benefit is that it has kept the conversation alive not only within governments but at the business level. We took a look at five photonics companies and the steps they are taking to reduce their own carbon footprint.
Delta Optical Thin Film
Delta Optical Thin Film A/S was incorporated in 2014, and in just seven years, by expanding its customer base, moving into new territories and launching new applications such as hyperspectral imaging or laser scanning microscopy. the company has doubled its revenue. Not surprisingly, with such growth came the need for larger facilities and last year the moved into its new purpose-built facilities in DTU Science Park in Hørsholm, Denmark.
The company is doing its part to trim its carbon output by installing solar panels on the roof of the new facility. In addition, it has "greened" its manufacturing processes as well. A new automated ultrasonic cleaning line is completely alcohol-free and cleans without discharging any harmful wastewater. It adheres to Danish environmental protection laws that are among the strictest worldwide.
Qioptiq Photonics and Excelitas
Qioptiq Photonics GmbH & Co. KG has been focusing on reducing carbon emissions for many years and estimates that it has eliminated more than 1180 tons of CO2 over the period from 2015 to 2019. Its Excelitas subsidiary which specializes in lighting, optronic, detection and optical technology, launched several initiatives to minimize its own GHG emissions including photovoltaic systems for on-site renewable energy generation, e-charging stations for company and employee vehicles, the gradual conversion of the company vehicle fleet to electric and hybrid vehicles, purchasing energy-efficient machinery and equipment, large-scale conversion to energy-efficient LED lighting, and reduction of disposable packaging materials in company cafeterias.
To offset the remaining emissions, Excelitas purchased climate protection certificates for 2021 to support funding for the following projects:
Reforestation in Uruguay
Forest protection in Brazil
Hydropower in Brazil
"Climate change is a global issue and Excelitas has made this commitment in our German operations to contribute to sustainability and help reduce the global CO2 output," said Dr. Robert Vollmers, Excelitas Vice President Operations, Commercial Optics. "Projects in emerging and developing countries help to improve economy, social conditions and ecology, while also helping to realize the sustainability goals of the United Nations. For emerging and developing countries, emissions trading is a key driver for the transfer of clean technologies and sustainable economic development," Vollmers continued.
"Sustainability is critical to our global future," said David Nislick, Excelitas Technologies CEO. "We have recognized that voluntary emission reductions and the compensation of unavoidable emissions are essential to effectively counteract climate change. And since tangible action is critical to global change, we are funding important climate work that honors our commitment to reducing carbon output and leading by responsible corporate citizenship."
Lumentum
Lumentum, a designer and manufacturer of optical and photonic products enabling optical networking and laser applications, takes corporate responsibility seriously. In a recent report the company outlined its commitment to a sustainable future, explaining that its corporate social responsibility is built on three main pillars: reducing its impact on the environment, having a positive impact on people, and innovating for breakthrough impacts for its business and the world. Lumentum has committed to environmental, social, and governance standards that are aligned with the U.N. Sustainable Development Goals (SDGs) across its value chain and has committed to net zero greenhouse emissions by 2030.To help achieve this, the company is procuring 100% renewable electricity to power its headquarters in San Jose, California (US), a new R&D facility in Milan (Italy), and a manufacturing facility in Škofljica (Slovenia).
One of the actions the company has taken is implementing a water quality management program, as water is an important resource for cooling, cleaning and personal hygienic use at its production facilities. Lumentum has water quality management programs in place covering aspects from wastewater treatment to storm water runoff and drainage.
Konica Minolta
Konica Minolta Business Solutions U.S.A., Inc. is committed to sustainability across its global operations. Its environmental action plan, Eco Vision 2050, sets ambitions goals that the company is working to achieve by 2030. These goals include reducing co2 emissions by 80% (compared to 2005 levels), promoting recycling and biodiversity and shifting to 100% renewable energy sources globally by 2030.
The company installed a 967,000 kWh solar energy system that consists of nearly 3500 240-watt solar panels at its US headquarters in New Jersey, producing about 10 to 15% of its energy needs. Another step that the company took in 2020 was to partner with the Arbor Day Foundation in an effort to revitalize U.S. national forests. In alliance with the U.S. Forest Service and other local planting partners, 10,000 trees were planted in forests affected by wildfires or other natural disasters. The impact of planting these trees is estimated to sequester 1,617 metric tons of net carbon dioxide, intercepting 11,100,000 gallons of rainfall and removing 207 tons of air pollution.
Employees also contribute to the company's sustainability efforts by volunteering hundreds of hours each year to environmental initiatives, supporting sustainability in its communities.
Konica Minolta has received several recognitions for its efforts: Named to the Dow Jones Sustainability World Index for nine consecutive years; On the Global 100 Most Sustainable Corporations in the World list for four years; Awarded a global leadership position on the Climate A List by CDP, an international not-for-profit organization engaged in activities to realize a sustainable economy in 2020.
Luxinar
Luxinar, formerly Rofin-Sinar UK, is a UK manufacturer of sealed carbon dioxide and femtosecond laser sources. Located at the Bridgehead Business Park in Kingston upon Hull, which is an environmentally designed development, its building includes several efficiency measures such as solar panels, process water to heat the factory in winter and ambient temperature to cool the process water. Sensor-activated LED lighting is installed throughout the factory and the company operates a full recycling program. Electric car charging is also provided and Luxinar staff are encouraged to cycle to work.
To reduce the greenhouse gas emissions from transporting its supplies, Luxinar's suppliers are mainly UK based, with many located in the Hull area, and the company is increasing local sourcing by partnering with initiatives such as The Supply Chain Network.
Bringing efficiency full circle
In addition to making our buildings more energy efficient, photonic-based products can cut carbon, reduce water use and eliminate toxins in manufacturing processes. A future article will look at specific manufacturers who are finding the environmental benefits in photonic applications.
Written by Anne Fischer, Editorial Director, Novus Light Technologies Today