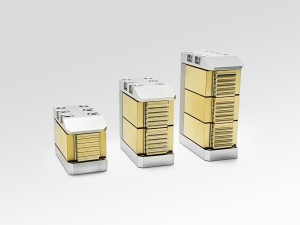 Focuslight Technologies, a global provider of high-power diode lasers and micro-optics, has announced a new member to their family of high-power conduction-cooled stacks, GS20.
The GS20 is a new high-power conduction-cooled stack with 2.13mm bar pitch on a macro channel water cooler that has a peak power of 400W per bar at 8% (400us/200Hz) high duty cycle, which is a significant improvement (30%) over traditional conduction-cooled stacked products, AA10. The lifetime can achieve more than 109 shots.

Focuslight's "indium-free" Eutectic Bonding, thermal management, thermal stress control, interface materials and surface engineering and other core technologies have been fully applied in GS20, making GS20 excellent in heat dissipation capacity, reliability, miniaturization, and other key specifications, which achieve international advanced level. GS20 helps to improve the pumping efficiency and system reliability of solid-state lasers, and also broadens the direct application areas of high-power semiconductor lasers (hair removal, material processing, display lighting, etc.).
Lichen Sun, Open Package Product Line Manager of the Diode Laser BU at Focuslight Technologies, notes, "As the world's leading supplier of high-power diode lasers, Focuslight's GS series of conduction-cooled stacks are technologically advanced and very reliable, with a wide range of products to meet the application requirement of different customers in different fields. Focuslight's advanced micro-optical shaping technology enables precise control of photons to regulate parameters such as output beam shape, power density and light intensity distribution. By combining the advantages of "photon generation" and "photon control", Focuslight is able to provide leading photonics application solutions for customers."