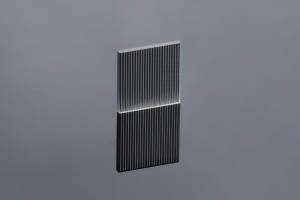 Focuslight Technologies, a global provider of high-power diode lasers and micro-optics, has announced the release of their 160° Ultra-Wide-Angle Diffuser. This ultra-wide-angle diffuser can also be used in our AT02 Pro VCSEL Illuminator and plays a crucial role as it is designed for DMS (Driver Monitoring System), OMS (Occupancy Monitoring System), machine vision, augmented reality, intelligent transportation, and laser infrared lighting.
As our Product Line Manager of Automotive Business Unit Ms. Sally Chen states: "The 160°x120° ultra-wide FOV covers a wide range of in-cabin environment to enable monitoring of both driver and passenger status and activities, generating real-time information of the entire cabin, including the rear row."
With advantages of ultra-wide FOV, low noise batwing distribution, strong resistance to sunlight and high resolution, Focuslight VCSEL illuminator AT02 Pro provides customers high performance and high reliability solutions for DMS and OMS illumination as an upgrade alternative to LED illuminators. It is the preferred solution for automotive grade DMS and OMS. It can also be used for machine vision, augmented reality, intelligent transportation and laser infrared lighting.
Our Product Line Manager of Laser Optics Business Unit Dr. Daniel Braam also comments: "Focuslight increases the diffuser portfolio with new refractive optical elements made of glass that disperse laser light to a large field of view with a single optical element. A full illumination angle can be achieved ranging from a few mrad to over 160°. In combination with an optimized intensity distribution for accurate and reliable sensing over the full angle of illumination, the new diffuser can shape laser sources used in LiDAR and 3D sensing applications."
Founded in 2007 and headquartered in Xi'an, China, Focuslight Technologies is a fast-growing company that develops and manufactures high power diode lasers (photon generation), laser optics (photon control), and photonic modules and systems (application solutions, including LiDAR transmitter modules and UV-L optical systems) used in advanced manufacturing, health, research, automotive, and consumer electronics industries. In 2017, Focuslight acquired LIMO, one of the leading manufacturers of micro-optics and beam shaping solutions, and a pioneer in groundbreaking photonics production technologies. Focuslight has over 400 patents worldwide and is ISO 14001, ISO 45001, ISO 9001:2015, and IATF 16949 certified. Additional information can be found at www.focuslight.com.