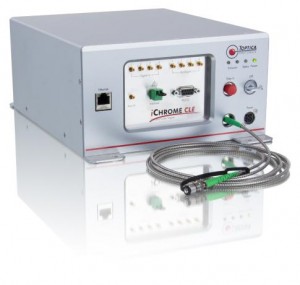 Customers can take care of their research without the need to ever manually align their illumination source. Hands free operation and auto-alignment makes it a perfect fit for OEM customers.
TOPTICA's iChrome CLE is a compact laser engine that combines four laser lines in one box. All integrated colors are provided via one polarization-maintaining single-mode fiber. It is available with 405, 488, 561 and 640 nm and more than 50 mW guaranteed output power after the fiber each.
Easy OEM integration is enabled via the fully unified user interface. With its auto-alignment feature the laser combiner system is ready-to-use after one simple button click. The 561 nm laser light is generated by TOPTICA´s proprietary FDDL (Frequency Doubled Diode Laser) technology. Each laser line, including the 561nm FDDL, can be directly modulated up to a frequency of 1 MHz and TOPTICA's "Complete OFF" mechanism guarantees zero photons in the "off"-state.
For more information visit the TOPTICA iChrome CLE webpage.
TOPTICA at analytica 2020: High-end Lasers for Spectroscopy, Microscopy and Quality Control
From March 31 – April 3 TOPTICA will present their latest developments in high-end laser technology at the analytica exhibition in Munich, Hall A1, booth # 301. These include Single mode diode lasers, Multi-laser engines, widely Tunable Lasers and powerful Femtosecond Fiber lasers, as well as Terahertz systems. TOPTICA's lasers enable a variety of demanding applications in biophotonics and microscopy, materials and test & measurement.