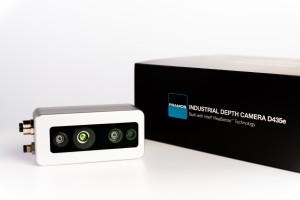 The Framos Industrial Depth Camera D435e is built with Intel's D430 depth module, Intel's D4 vision processor, and a RGB camera module. The camera features an industrial enclosure with IP66 rating, and is equipped with lockable connectors for gigabit ethernet (M12) and power supply (M8). In case no additional power supply cable can be used, power over ethernet (PoE) is available.
The Framos Industrial Depth Camera D435e has a depth sensor with a 0.9MP global shutter and a 2MP rolling shutter RGB module, and a 74° and 77° lens field of view on the diagonal. This camera achieves characteristics and performance that are equivalent to Intel's RealSense D435. In addition, Framos has designed its own processing board to meet industrial interface requirements. Framos' GigE Vision IP is directly connected to Intel's D4 ASIC; and leveraging the possibility to control the camera with GigE Vision compliant software.
The D435e offers an ethernet connector for the data transmission which supports PoE. Alternatively, there is a separate 12V-24V power connection which can be used for triggering and GPIO formats. The operating temperature ranges between 0°celsius and +55°celsius housing temperature. The housing is equipped with IP66 grade protection for water and dust, and 4x M3 mounting holes for robotic applications. The camera works well with both Intel's® RealSense SDK 2.0, and all other software applications that are compatible with GigE Vision.
Application references for industrial 3D vision
Depth Technology and 3D Imaging is crucial to both Human Machine Interaction (HMI), and real-time object detection. Industrial automation, sensing machines, automated guided vehicles (AGVs), and a lot of medical devices are based on 3D technology. The currently available industrial grade 3D cameras from FRAMOS are easy to handle, affordable and provide accelerated next-level vision development for customers, and applications in various industries. FRAMOS' early customers for the D435e 3D GigE camera come from logistics, robotics, automotive and intralogistics with various use cases. A German car manufacturer is using the new 3D devices in a pilot project to increase the automation grade with precise pick and place robots in its manufacturing facilities.
FRAMOS, with over 38 years of experience in Vision Technologies, is truly in tune with today's industrial imaging requirements. They help clients leverage the latest vision technology to drive innovation and to remain competitive. The industry and product experts at FRAMOS are available to support customers with the integration of the new industrial 3D vision cameras into their applications and projects. Additionally, FRAMOS is equipped to help customer combine their 3D technology with artificial intelligence (AI) functionality. The FRAMOS D435e camera will be available from September.