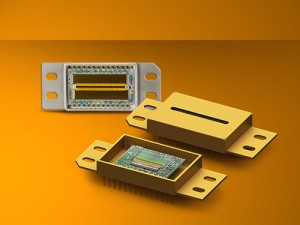 Laser Components manufactures extended InGaAs arrays. Their research and production facility in Arizona (US) supplies customers all over the world with these industrial-grade quantum detectors. The semiconductor material absorbs incident IR photons in the intrinsic region generating electron hole pairs, which are collected at external electrodes. Photovoltaic detectors are suitable for many applications due to their high sensitivity, fast response, low noise and wide dynamic range.
The IG22 series is an extended InGaAs array with a pixel pitch of 50 microns and line rate of 3 kHz; the 20% cut-off wavelength is out at 2.15 microns. In addition to the array, Laser Components can supply a complete set of drive electronics, consisting of a sensor board, processing unit and software. The processing unit is the link between the sensor board and user PC and is designed for easy integration.
This combination of IG22 array and interface package is designed for process control, general IR spectroscopy and food and pharmaceutical monitoring.