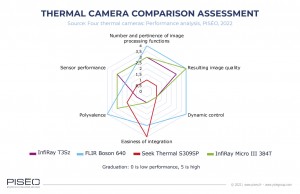 Thanks to multiple drivers, the market for infra-red thermal imaging cameras and modules is expanding rapidly. It is expected to reach US$8,761 million in 2026 with a CAGR 2021-2026 of 7.2%.
According to Yole Intelligence, part of Yole Group, in the Thermal Imaging and Sensing 2021 report, demand from defense applications is driving the infra-red thermal imaging camera market. Progressively more portable equipment is required for soldiers, such as thermal weapon sights and night vision goggles. 'Smart city' surveillance applications are also important. Thermal camera technology is increasingly adopted by integrators thanks to cost decreases. It is also boosted by the democratization of thermal imaging in industrial thermography. Finally, thermal imaging is becoming consumerized.
There are many products on the market. Users, integrators, and sensor manufacturers must discriminate between available products based on accurate and independent assessments of their performance and features.
In this context, Yole Intelligence's partner, PISÉO, investigates disruptive thermal imaging technologies and evaluates the latest innovations.
Today, PISÉO's imaging team releases a comprehensive comparison of independent analyses of the main features, performance, and imaging system architectures of four thermal cameras:
InfiRay T3S camera module.
Teledyne FLIR BOSON 640 Pro camera.
Seek Thermal S309P 12µm x 12µm QVGA module.
InfiRay Micro III 384T camera module.
ndeed, the FLIR Boson camera module is a reference in the infra-red thermal camera market. It is the product with the most accessible functionality, offering the most versatility to be used in a wide range of applications. The resulting image quality is good, with the relatively low performance of the sensor being compensated by strong image processing algorithms.
The two InfiRay camera modules embed a well-performing sensor.
The InfiRay Micro III 384T delivers good-quality images. However, the lack of documentation and support suggests that this module is mainly intended for integration by InfiRay into its own products.
The InfiRay T3S camera module also provides good image quality. However, the versatility and integration possibilities are limited, and it is intended to be plugged into a smartphone. It is a good value-for-money product.
The strength of the Seek Thermal S309P camera module is its ease of integration. The image quality, while being acceptable, remains the lowest of the four benchmarked cameras according to PISÉO's standard testing protocol used for all four thermal cameras, as explained in the report. It has a low-performing sensor equipped with basic image processing algorithms.